Peach Mint Lemonade – When life gives you lemons, you have to make Peach Mint Lemonade! The perfect tasty and tangy summertime drink!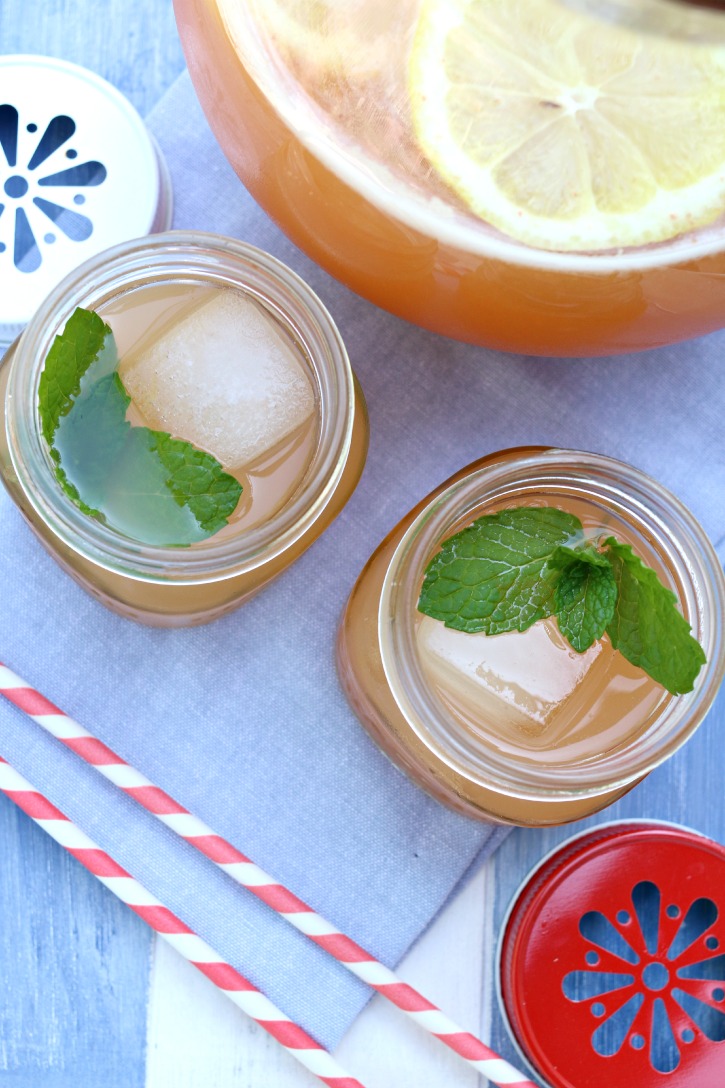 Hi! This is Nicole from Simply Happenstance. I can't wait to share one of my favorite summer recipes, perfect for the Fourth of July.
When life gives you lemons, you naturally make a batch of Peach Mint Lemonade! This summer favorite is the quintessential drink for backyard barbeques, running through the sprinklers, and celebrating the Fourth of July.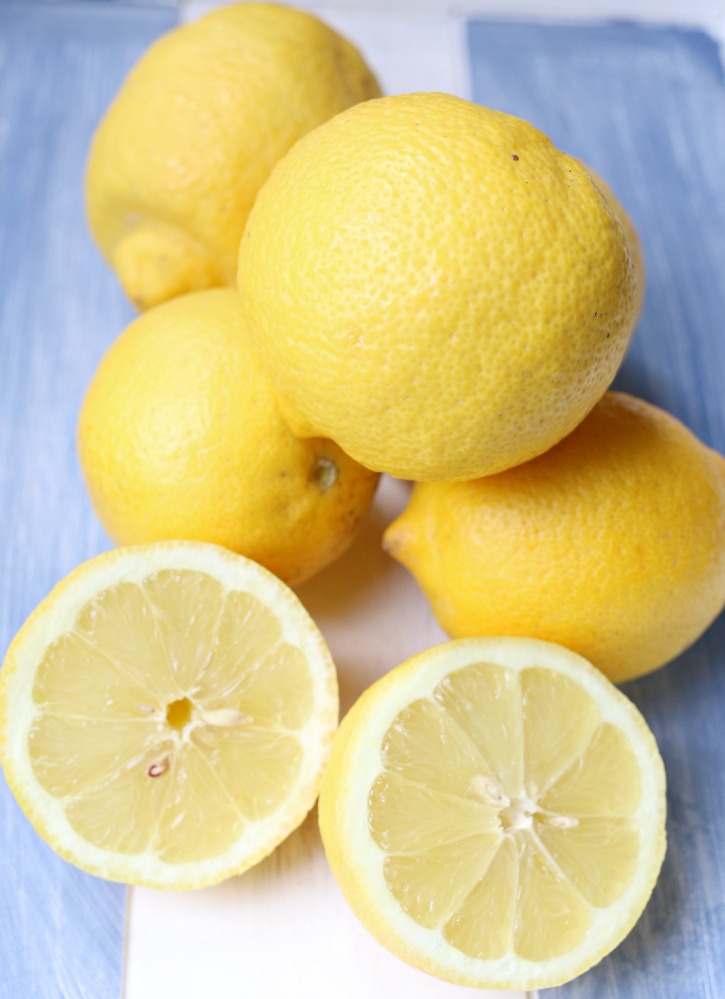 I love a tangy batch of homemade lemonade.  In fact the entire time I was pregnant with my children, I craved lemonade, so much so my meals that were eaten out were based on restaurants that sold homemade lemonade. Crazy right?! Well not much has changed, but what I can do now is make my own lemonade and share it with the one's I love.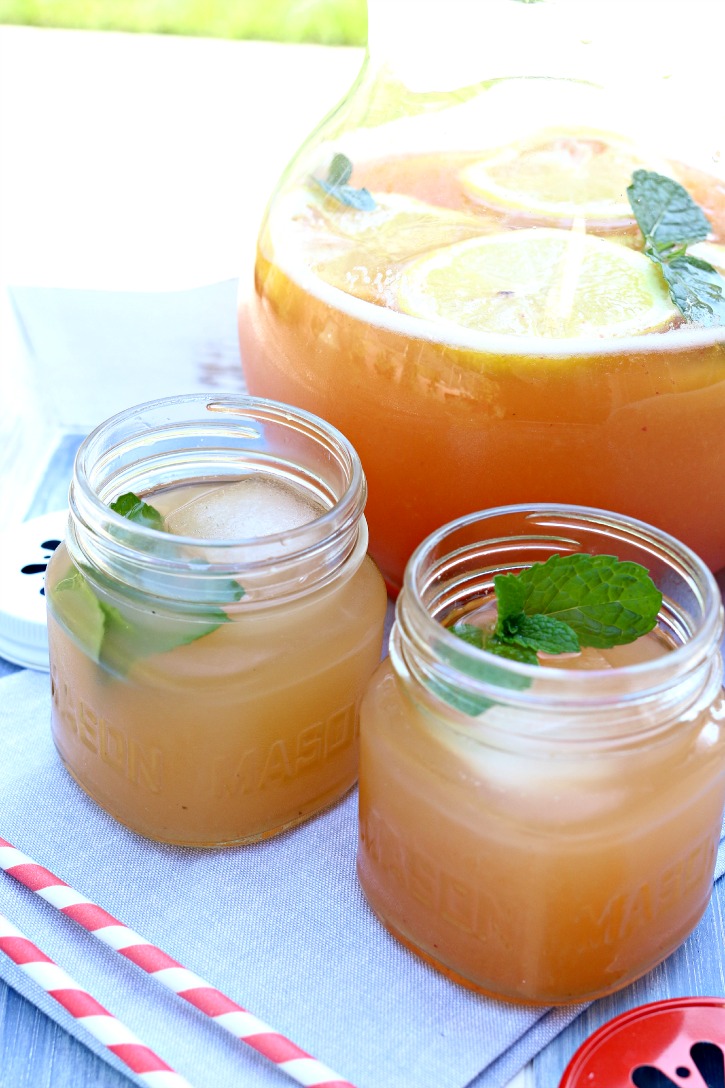 This recipe for Peach Mint Lemonade is the perfect combination of sweet peaches mixed with tart lemons and a dash of mint to balance it all out. I have tried this recipe with all lemons (very tart), but have found the combination of mixing real fresh squeezed lemon juice with some organic lemonade juice make for a sweeter yet tangy batch of Peach Mint Lemonade. By doing so this simplifies the recipe so that you are not spending all of your time juicing lemons, but enjoying your summer out back sipping on this Peach Mint Lemonade.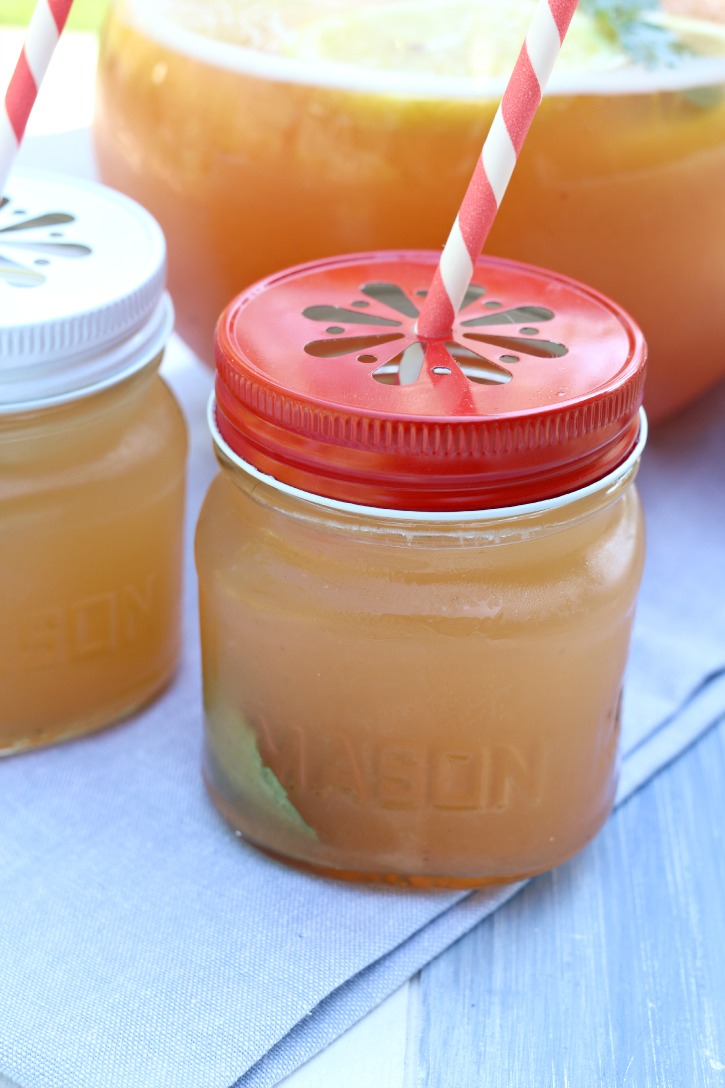 We can't wait to enjoy a slow summer day with a nice big tall glass of Peach Mint Lemonade. Maybe under a big tree swinging in a hammock.  This lemonade will remind you why we all love summer so much. What I love about this drink is the fact that the base is created from an easy simple syrup mixture, so if peaches aren't your thing, you can change it out for Lemon Blueberry Simple Syrup.  We hope you make a great big pitcher of this Peach Mint Lemonade and enjoy this sweet summer season.

Peach Mint Lemonade
Author:
Simply Happenstance adapted by Sur La Table
Ingredients
3 cups sugar
2 cups water
1 cup mint leaves
2 cups fresh squeezed lemon juice
1 cup organic lemonade
4 peaches quartered
5 cups water to finish the lemonade
Mint for garnish
Instructions
In a small pan add three cups of sugar to two cups of water.
Bring to the boil.
Add the mint leaves
Simmer until the sugar is dissolved, clear, and the mixture is slightly thick.
Remove from the heat once the simple syrup is done and remove the mint leaves.
Let cool.
Juice the lemons to make 2 cups of lemon juice (around 20 lemons)
Puree the peaches and the simple syrup in a blender or food processor until smooth.
Pour the peach mixture into a large pitcher.
Add the lemon juice, the 1 cup lemonade, and 5 cups water to the pitcher.
Garnish with mint and or lemon slices.
Serve the lemonade over ice.