Pork Chops with Peach Salsa – Learn the secret to tender, delicious pork chops in this fresh recipe that the whole family will love.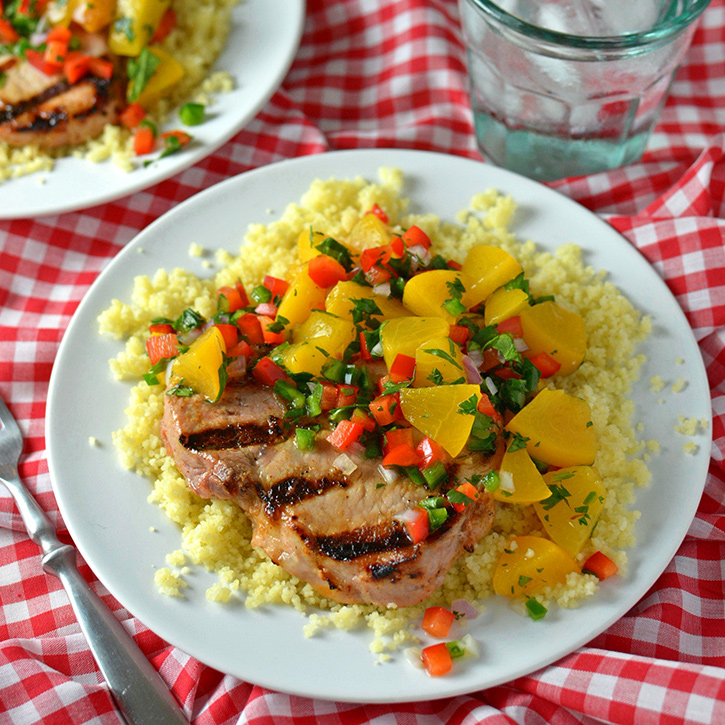 Hi, Simple As That readers! This is Rachel from Simple Seasonal with another fresh and healthy idea for what's for dinner. Today's recipe is Tender Pork Chops with Peach Salsa. My entire family loves the fresh flavors in this recipe, and I think yours will too. As a Mom and the primary cook in my home, I love how easily this recipe comes together and how well it fits into my weekly grocery budget. Not to mention, my kiddo was actually willing to give this one a try with the the promise of the fruity, sweet flavor of peaches.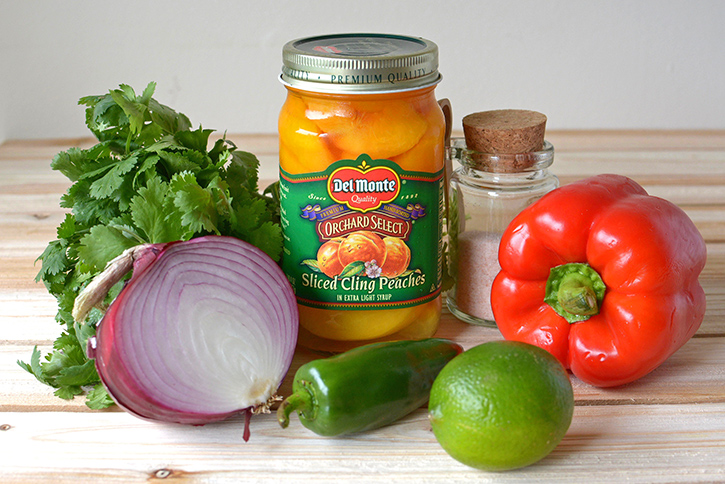 Going back to how well this recipe fits into my weekly grocery budget… Pork chops have become a staple in my home primarily because they are one of the more economic cuts of meat. Each chop is the perfect portion size, which makes me less likely to over-buy. And at around $1 a chop they really don't break the bank compared to a beef or chicken dish.
The only problem with pork chops is that they are famous for being dry and tough. I dare say, however, that my household hasn't know a dry or a tough chop in years. The secret lies in brining, or placing them in a salty marinade before cooking. In this recipe, I mix together reserved peach syrup from my jar of peaches that I use to make the salsa with salt and a little chili powder. Then, I let the chops marinate or "brine" for an hour or two before cooking. Voila! Amazing chops as simple as that! Once you've mastered this technique you'll be able to work chop miracles in your kitchen too.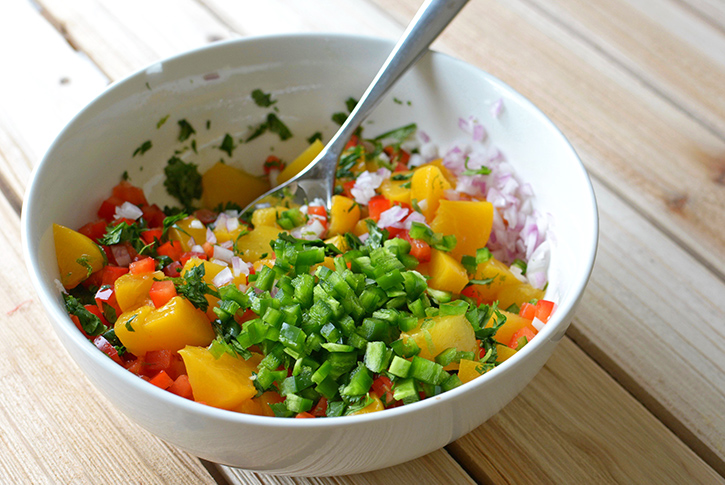 Now onto the peach salsa… I always prefer a homemade salsa with raw peppers and herbs over the canned variety. The crunch and the pop of different flavors tastes so fresh and summer-like. In this recipe I used one jalapeño to give it a little kick, but feel free to add another to turn up the heat, or replace with a little bit of green pepper to make the salsa mild. Generously top some couscous and your succulent pork chops with the salsa and you've got a zesty and fun summer meal!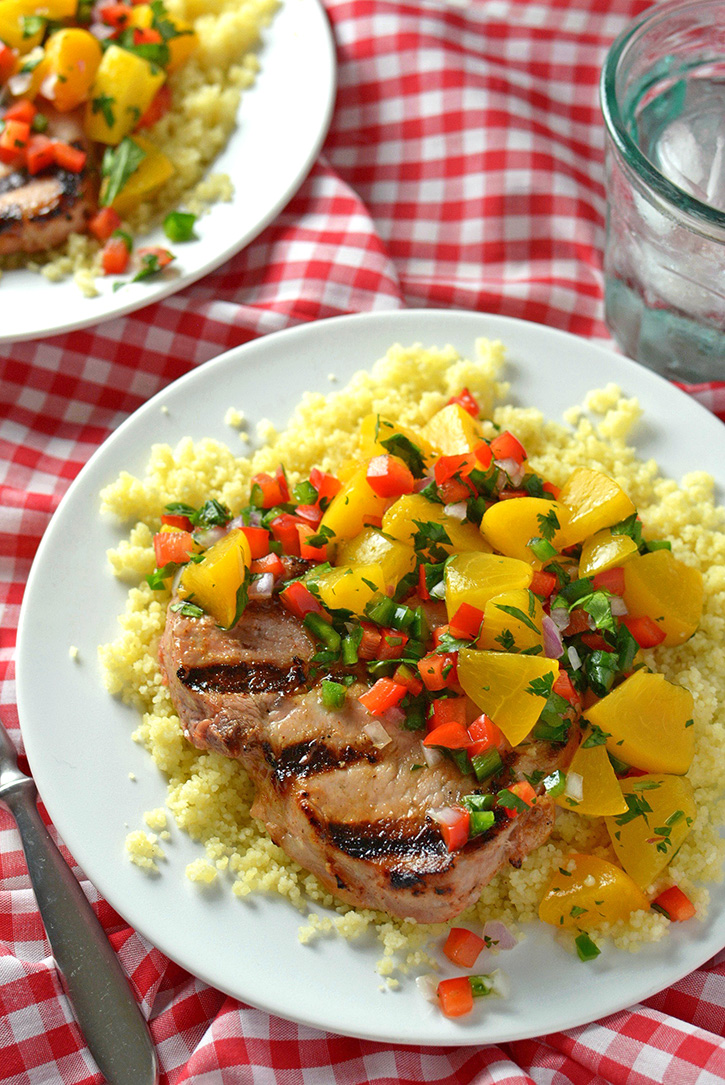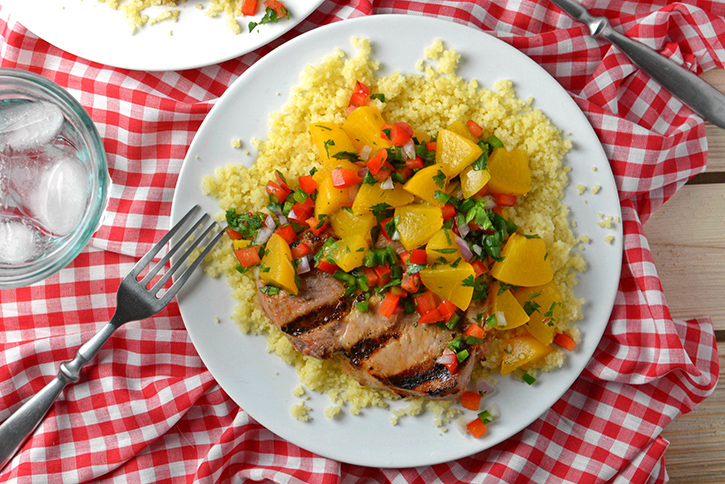 Pork Chops with Peach Salsa
Learn the secret to tender, delicious pork chops in this fresh recipe that the whole family will love.
Ingredients
Peach-Brined Pork Chops
reserved syrup from a jar of peaches
⅛ C olive oil
2 tsp salt
¼ tsp ground chipotle chili pepper or regular chili powder for less heat
4 boneless pork chops (about 1 pound)
Peach Salsa
1 20 oz jar of canned peaches in light syrup (drained) and chopped
½ red bell pepper, small dice
1 seeded jalapeño, small dice (optional)
⅛ C red onion, small dice
¼ C cilantro, chopped small
zest of 1 lime
juice of ½ lime
1-2 tsp honey (optional)
¼ tsp salt
Couscous
1½ C plain dry couscous
2 C water
1 Tbsp olive oil
⅛ tsp salt
Instructions
Strain and reserve the syrup from one 20 oz jar of canned peaches. Whisk the syrup together with olive oil, salt, and chipotle chili pepper. Brine the pork chops in the salty peach mixture for 1-2 hours.
Chop the peaches and the vegetables for the salsa. Fold together with lime zest, lime juice, honey, and salt. Store covered in the refrigerator until you are ready to serve.
Prepare your grill for cooking on direct high heat. Grill the pork chops over direct high heat for 6-8 minutes, turning once, until they reach an internal temperature of 160º-170º.
Make the couscous while the pork chops are grilling. Bring the water, olive oil, and salt to a boil. Stir in the dry couscous, remove from the heat, cover, and let sit for 5 minutes. Fluff with a fork before serving.
When the pork is done cooking, place on a bed of couscous and serve topped with fresh peach salsa.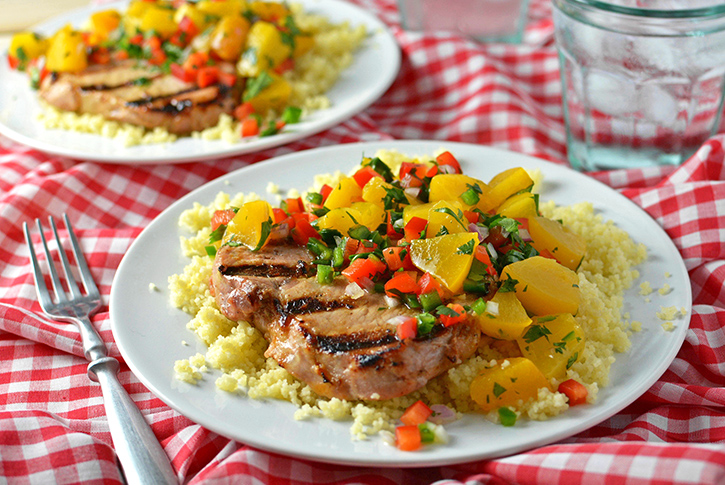 ---
 Need some more healthy, dinnertime inspiration? Check out the recipes below…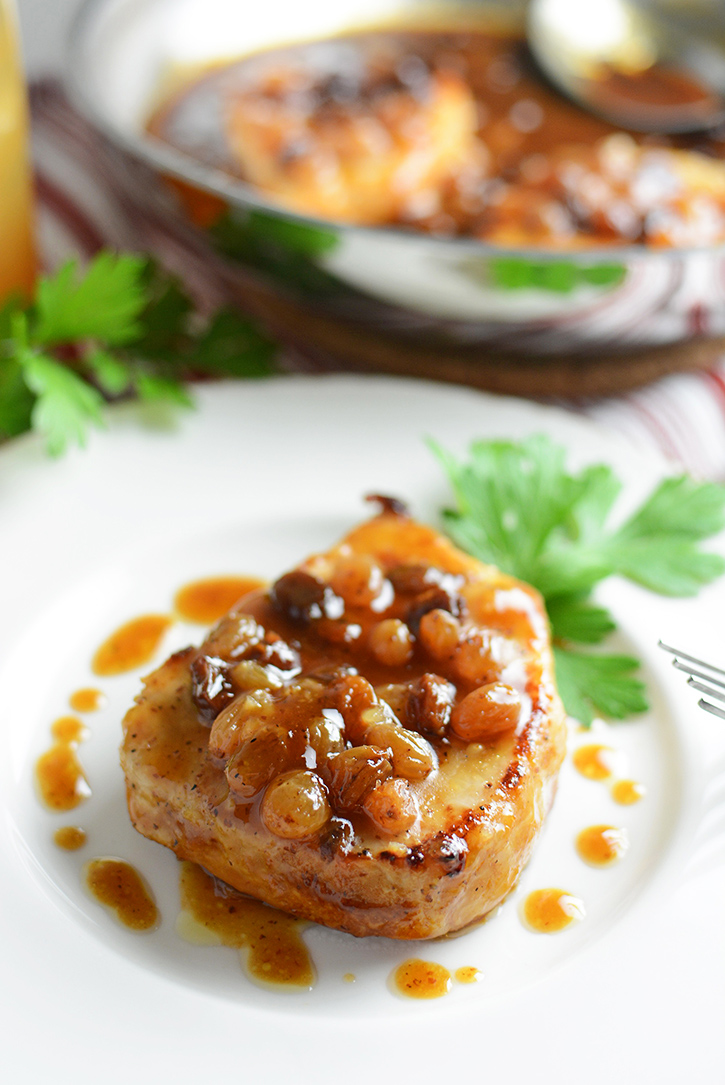 Tender Pork Loin with Herb Sauce