Sheet Pan BBQ Chicken with Summer Squash – Spend less time cooking and more time with your loved ones with this quick and easy all-in-one meal!
Hi Simple As That readers! This is Rachel, back from the food blog Simple Seasonal. Today I have a third recipe in what has become a series of easy peasy sheet pan recipes. If you're looking for healthy no-fuss dinners, be sure to also check out my One-Pot Shrimp and Snow Pea Alfredo, Sheet Pan Mini Turkey Meatloaf Dinner, and my Sheet Pan Lemon Pepper Salmon and Vegetables.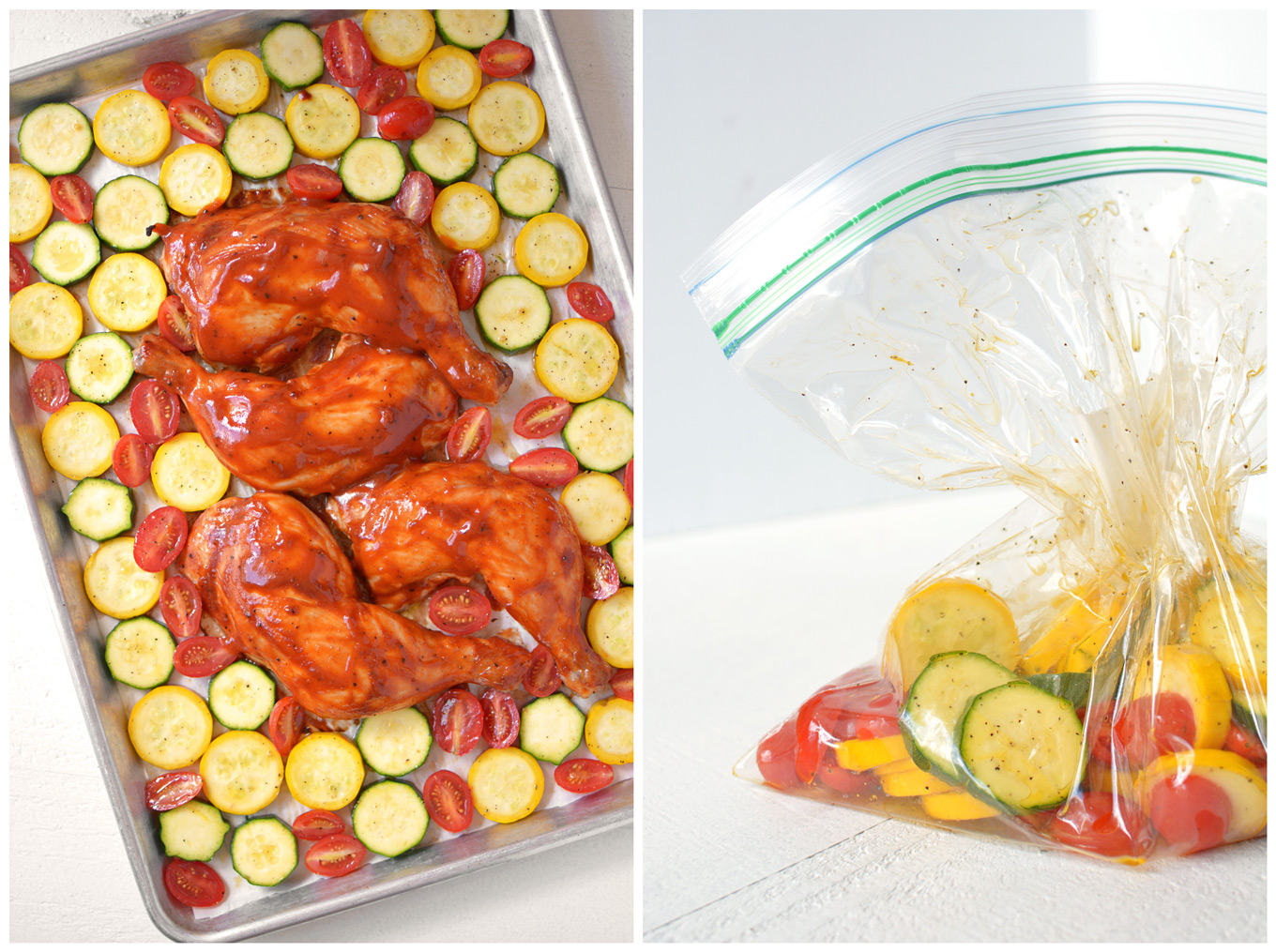 Summertime is the best!
One of my favorite things about summer is the long days followed by warm evenings. I love serving dinner on the patio, then playing with the kids outside until it's time to tuck them into their little beds. Sleep comes easily after an evening of bike riding, swinging, lightning bug catching, and memory making.
I also love all the fresh, local produce available to feed my family at this time of year. Some of my warm weather favorites are summer squash and little tomatoes. That's why I knew they had to find their way into my new recipe for Sheet Pan BBQ Chicken with Summer Squash.
The veggies are simply marinated in olive oil with salt and pepper, then roasted until their natural sweetness shines through. Topped with fresh parmesan and basil, they are tasty as can be.
Now, the perfect accompaniment to tasty summer vegetables is some good BBQ chicken.
That's why I decided to put them together in this sheet pan meal. This recipe is so quick to make and clean up. It's perfect for making on one of those fun summer nights when you want to spend your time on more important things, like making memories (and catching lightning bugs) with the people you love.
Sheet Pan BBQ Chicken with Summer Squash
Spend less time cooking and more time with your loved ones with this quick and easy all-in-one meal!
Ingredients
4 skinless whole chicken legs
½ C of your favorite BBQ sauce, divided
½ lb yellow squash (about 1 small squash) cut into ¼ inch slices
½ lb zucchini (about 1 small squash) cut into ¼ inch slices
1 C grape or cherry tomatoes sliced in half
2 Tbsp olive oil
½ tsp salt
⅛ tsp pepper
¼ C freshly grated parmesan
¼ C fresh basil cut into ribbons
Instructions
Preheat oven to 425º F and line a large baking sheet with parchment paper.
Arrange skinless whole chicken legs on the baking sheet. Divide the BBQ sauce, reserving about one third of the sauce to baste the cooked chicken just before serving. Baste each raw chicken leg with BBQ sauce and reserve the "raw" sauce for further basting during the cooking process. Cook the chicken for 15 minutes.
Meanwhile, prep the vegetables and season them by combining with olive oil, salt, and pepper in a ziplock bag and shaking until coated.
After 15 minutes have elapsed, remove the chicken from the oven. Arrange the vegetables in a single layer on the pan with the tomatoes facing up. Baste the chicken legs with BBQ sauce a second time. Return the pan to the oven and cook for another 25-35 minutes. The meat is done cooking once the vegetable are golden along the edges and the chicken reaches an internal temperature of 165º F. Note that the cooking time can vary depending on the size of your chicken legs.
Remove from the oven and baste the chicken a final time with fresh BBQ sauce that hasn't touched raw meat. Garnish the vegetables with freshly grated parmesan and the basil ribbons. Serve immediately.
Notes
Serve as-is for a low carb meal. It's also delicious with rice or couscous.