Hello, Simple as That readers! Suzanne O'Brien here excited to guest-post about one of my favorite topics, creating meaningful family photo books. Perhaps this can serve as a point of inspiration as you follow along with Rebecca on her year-long photo organization project. To start, I'd like you to close your eyes and think about the one family story that you feel most compelled to document right now. Keep that vision in your mind and apply your story to the steps below.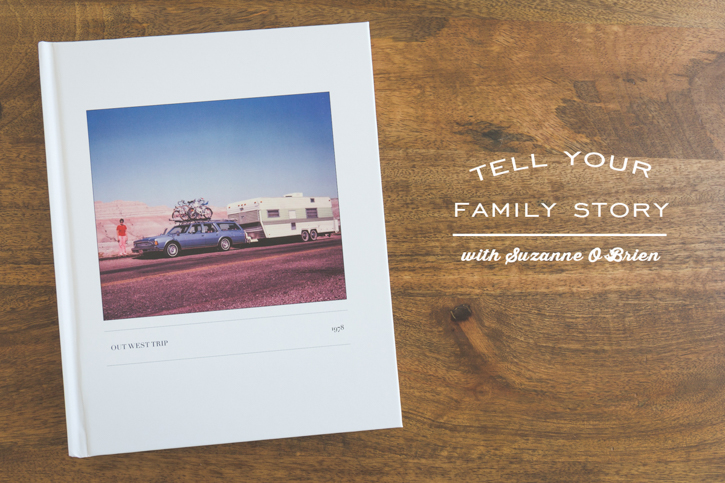 Several summers ago I began helping my mom organize all of our family memories. The story that quickly rose to the top of my list as a manageable, discrete project was the summer our family camped our way from Wisconsin to California. I had slides, hard copy photos, my scrapbook and, most importantly, daily journals that both my mother and I had kept, detailing our journey. If there was ever an argument for taking a few moments at the end of your travel days to record the story, these journals are it! Being able to document our unique perspectives on the same experiences is truly priceless. Here is a quick look at how I pulled these mementos into a tangible story book.
STEP 1 | Gather & Digitize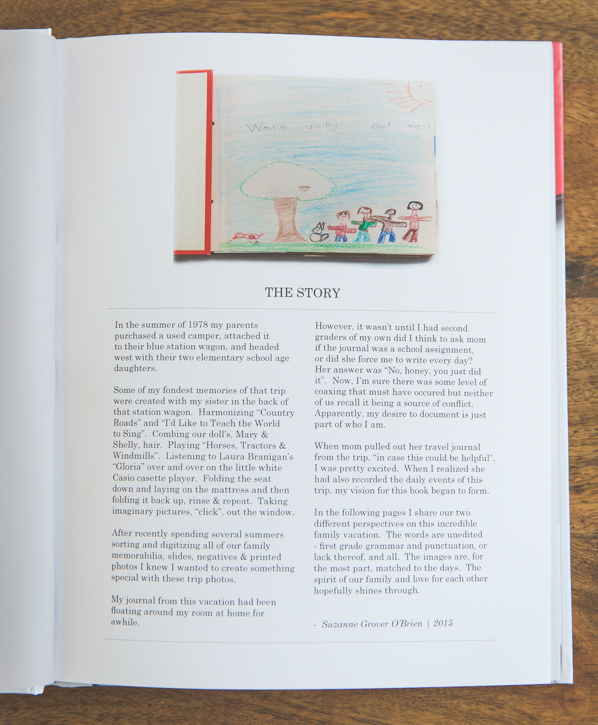 We spent many wonderful nights as a family reviewing old slides and selecting our favorites. Printed photos were also culled for the best of the best. To digitize, I dropped the slides at Costco (~$.30/slide) and sent the hard copy prints to Scan Digital because I wanted my memories to be processed in the US. Scan Cafe now offers a US-based service and is another great option (~$.30/print scan). I took a photo of my scrapbook title page (first-grade artwork at its finest) to include on my book intro page.
STEP 2 | Choose Photo Book Provider & Book Size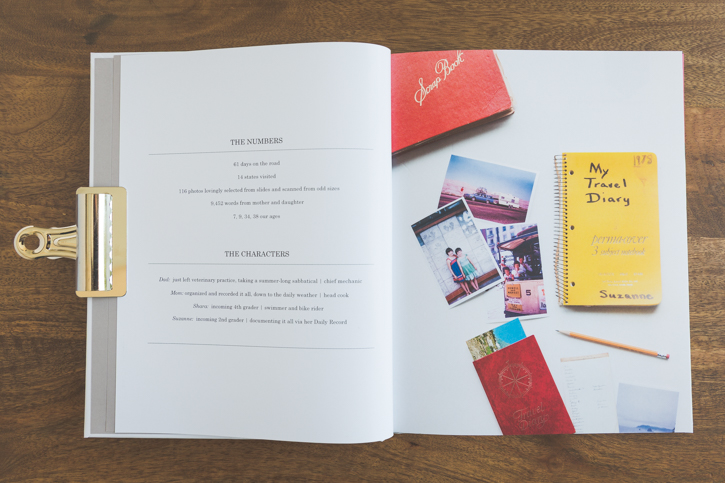 I selected an 8×10 vertical hardcover album from Blurb. Their value and design flexibility are hard to beat. This book was designed using Adobe inDesign but all of these steps can be applied to Blurb's free bookmaking software tools. There are many other wonderful self-publishing options available today, stay tuned for a future post where I will share some of my other favorite printing companies!
STEP 3 | Determine Design
I knew I needed to keep the design simple or this story would never get told, so I quickly decided on this formula: date and words on left side + 1 photo on the right side. To highlight favorite memories I occasionally pulled quotes to overlay on the images. Creating a consistent design formula that is easy to replicate is one of my favorite tricks to simplify the design process.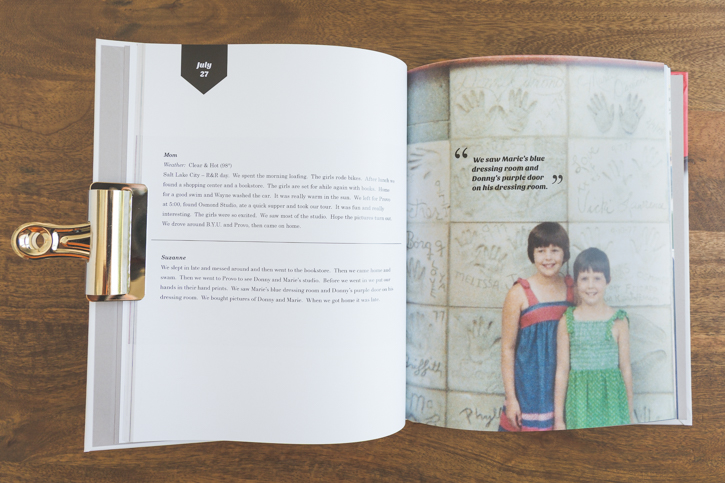 Several of the days did not have an obvious image to associate with the journaling, so I used those pages as opportunities to incorporate memorabilia into the book. My 7-year-old handwriting and my mom's neat cursive are so fun to have captured.
For more design inspiration check out my Photo Book Ideas Pinterest board or some actual books I have made for my family and clients. Sketch out a few designs you are drawn to and try not to overthink it too much. Getting it done is more important than having the perfect design.
STEP 4 | Do The Work
This middle part of the project is often where enthusiasm wanes, and the tediousness of the task can seem daunting. My favorite trick to get through this critical step is to break the work into discrete tasks, i.e. upload images, add text, proofread, etc. I use this cute printable to jot down these tasks and assign deadlines to keep me on track.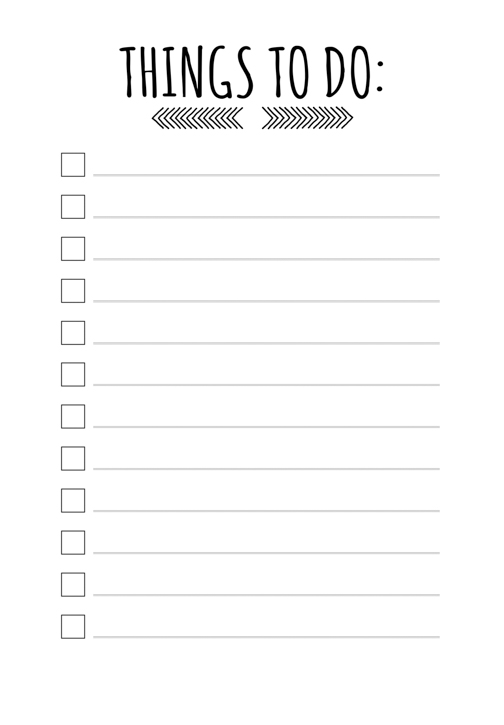 STEP 5 | Enjoy the Benefits of Your Efforts!
Creating a tangible keepsake that tells a family story is a true gift to your family. Photos and memories of this trip inspired a recent road trip to the Oregon Coast with my family. And after seeing this book, my big sister is now planning a trip with her family to some of the other beautiful spots we visited as girls!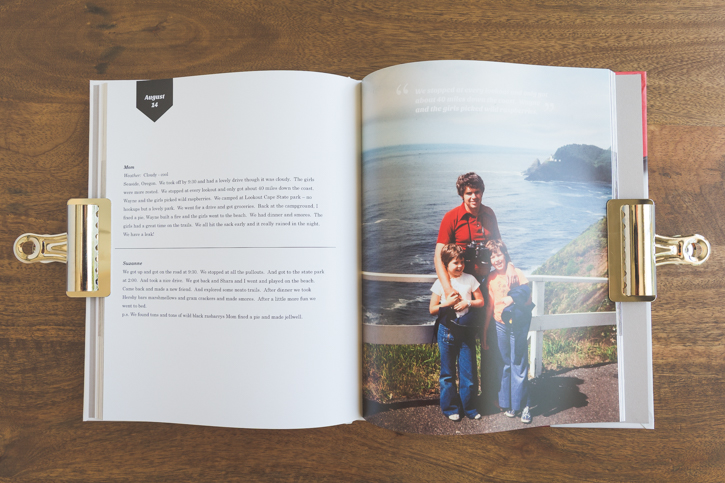 For more photography and photo book inspiration please visit Suzanne O'Brien Studio or say hello on Instagram, I'd love to hear what family story is at the top of your list!