It's been almost one month since our amazing, first-time trip to Disneyland as a family! It was truly magical and today I wanted to share more about our experience, along with some quick tips for making the most of your first Disneyland vacation.
If you're looking for deals on your next Disneyland vacation, click the image below for the best prices on hotels, tickets and Disney vacation packages!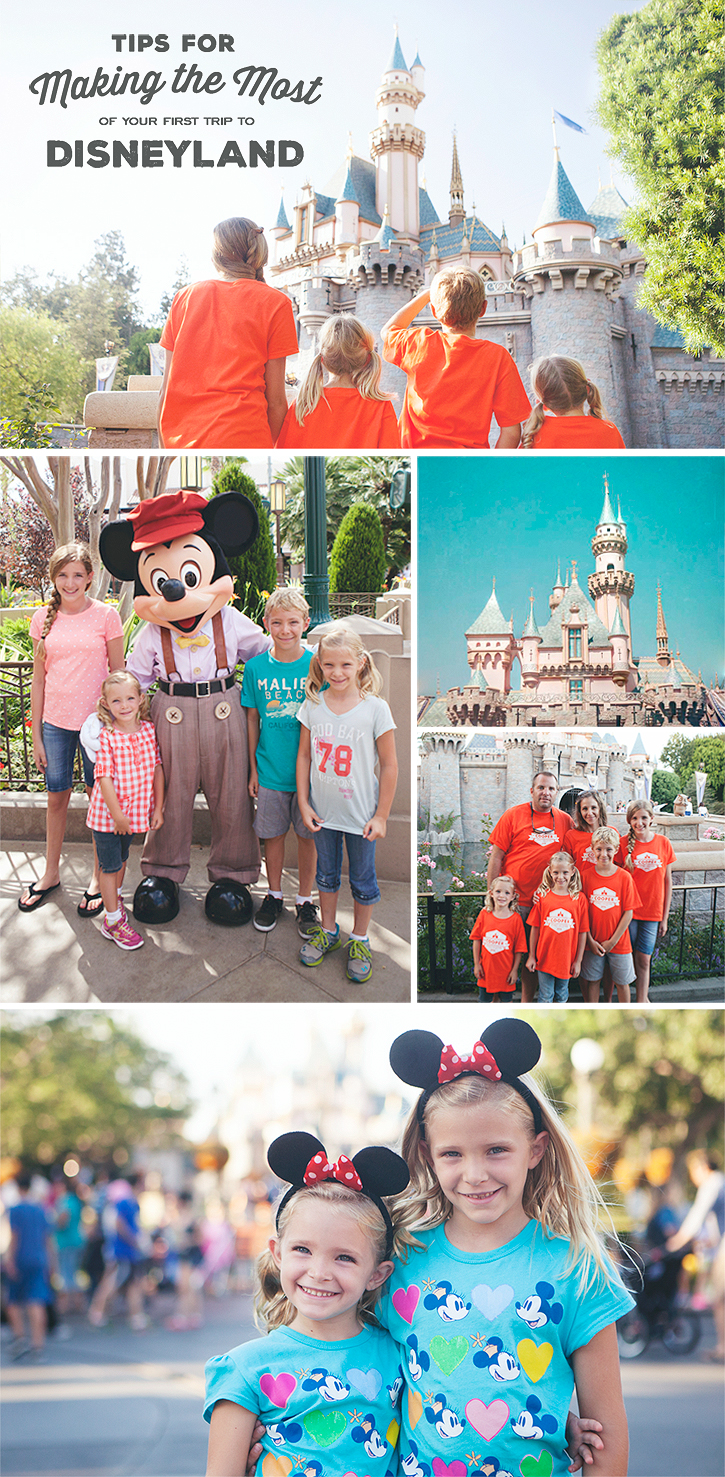 After tossing around the idea of going to Disneyland for quite sometime, we finally decided this Fall, that we were ready to make the investment and go as a family. We felt like our kids were at good ages (11, 9, 6 and 4) and as soon as we'd committed to the idea, the planning began. From deciding how to surprise the kids, to booking hotels, to purchasing park tickets —  I quickly  became overwhelmed with all there was to prepare — especially since this was our first time visiting the park and we really didn't know what to expect.
We ended up getting our park tickets through Get Away Today and I have to say, it was so great to have their help with our trip planning! They truly are Disney experts and they were amazing at helping me sort through all the information I'd gathered and helped get our trip started on the right foot with all the great advice they shared! I can't say enough great things about our experience with Get Away Today!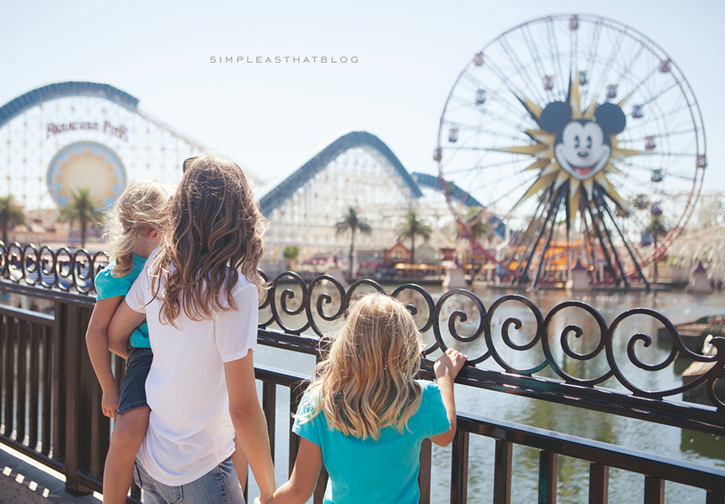 This was my first trip to Disneyland as well as my kids and it's hard to say who was more excited about it, them or me! Before we left I made plans for photos I wanted to take – getting some magical photos was really important to me. You can read more about how I planned for our Disney photos and what equipment I took in this post: Tips for Capturing Memorable Photos of your Disney Vacation.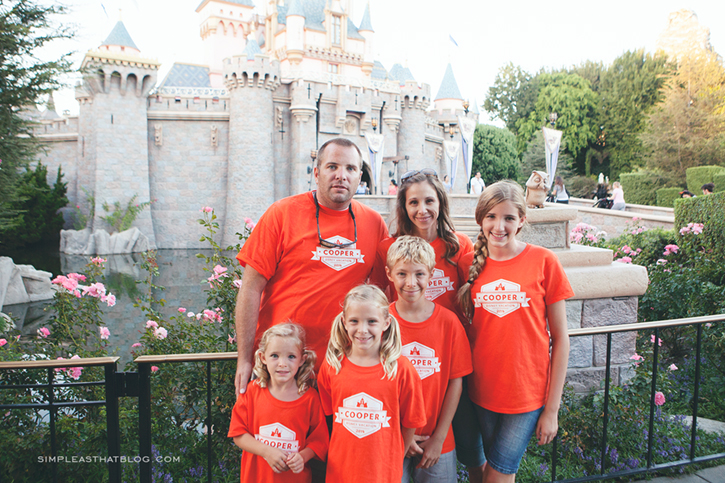 Matching Shirts. We decided to have matching shirts made for our first ever Disney vacation and I'm so glad we did! I was really pleased with the beautiful job that Celebration Shirts did putting together these custom designed, retro logo T's for us! They were awesome for being able to spot everyone in our group easily and they just looked so cute! If you're planning a family celebration of any kind and you need some AWESOME custom t-shirts, Celebration shirts is offering a free Celebration Shirts logo shirt with every order. Simply mention Simple as That when you place your order on their website!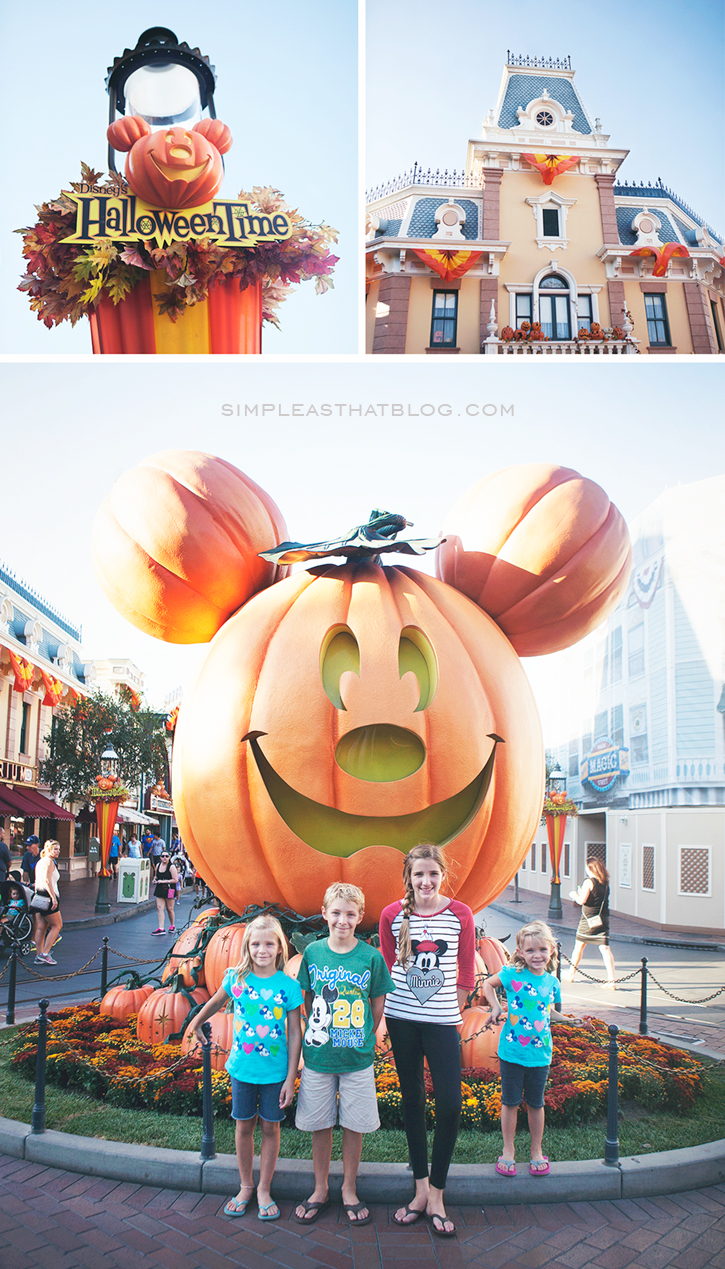 Travel in the off season. We were so happy with our choice to travel to Disneyland in September. We were at the park the 16, 17 and 19th, just one week after the Halloween decorations had gone up in the park. Lines were still busy, but not nearly what they could have been and while it was unseasonably hot the week we were there, we were happy to get a nice hot day at the beach and our last day in Disneyland ended with perfect weather. We love travelling during the off-season, no matter where we go, so we can avoid the crowds.
Accommodations. We've booked our stay at the Ramada Maingate, conveniently located right across the street from Disneyland Resort and we really loved it there! It was a priority for us that our hotel be close to Disneyland and it was! I actually timed our walk from our hotel room door to the park gates and it was just a hair over 5 minutes. It was also important to us that breakfast be included with our hotel stay and the Ramada Maingate provided a delicious, daily breakfast. With a family of six, the cost of meals can add up quickly and being able to save on breakfast each morning was so great! Another added convenience of staying at the Ramada, was the beautiful family friendly pool they have on property. I was surprised we used it as much as we did! When we got home from the park in the evenings, we got in the pool and hot tub for a quick swim and it was just what our tired feet needed! Our experience staying at the Ramada Maingate was such a positive one, we'd  definitely consider staying here again on future Disneyland trips!
Bring your big camera. I debated bringing my big camera, but ultimately decided to pack it along and I never regretted it! We carried the camera in a backpack and were able to take it with us on nearly every ride we went on. Quick tip: if you're planning on going on any water rides, pack a garbage bag along. I took my camera on the Grizzley River Run, I just slipped my camera bag inside a garbage bag I'd brought with me and it was completely safe. I'm so glad I had my SLR camera with me or I wouldn't have gotten nearly as many magical photos of our trip. Check out my Tips for Capturing Memorable Photos of your Disney Vacation right here.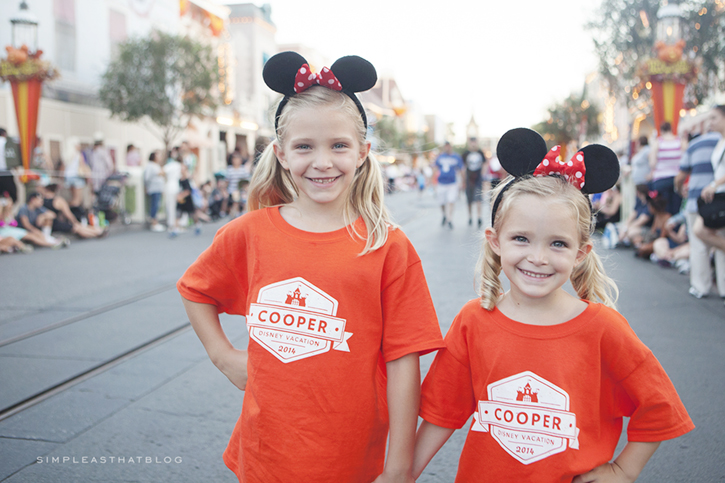 Souvenirs. We made the decision ahead of time that we were not going to purchase any souvenirs in the park. We were upfront about this with the kids before we went, but of course they asked a handful of times when they saw all the fun balloons and toys that you can purchase. The park souvenir prices just weren't in our budget so we made a trip to the Target a few blocks down the street from Disneyland instead and the kids were able to pick out one special souvenir each. The Target had all kinds of Disney goodies and the prices were reasonable. We got the cute mickey ears (pictured above) for the little girls there – they were about $5.99.
Magic Morning. With our 3-day park hopper passes through Get Away Today, we got one Magic Morning, which allowed us to get into the park 1 hour early. We used this on our first morning there when we were fresh and eager to get to the park. When we got in, the first thing we did was head straight to the spot where you could get your reservation tickets to see Elsa and Anna. I followed all the advice in this post on the Get Away Today blog and we were able to get in to see Elsa and Anna after a wait time of about 45 min for our reservation tickets, then only 10 minutes when we came back at our reservation time. My girls were so thrilled to meet Elsa and Anna, it was totally worth the extra effort to go see them. Make sure you plan ahead or you won't be able to. Reservation tickets go fast.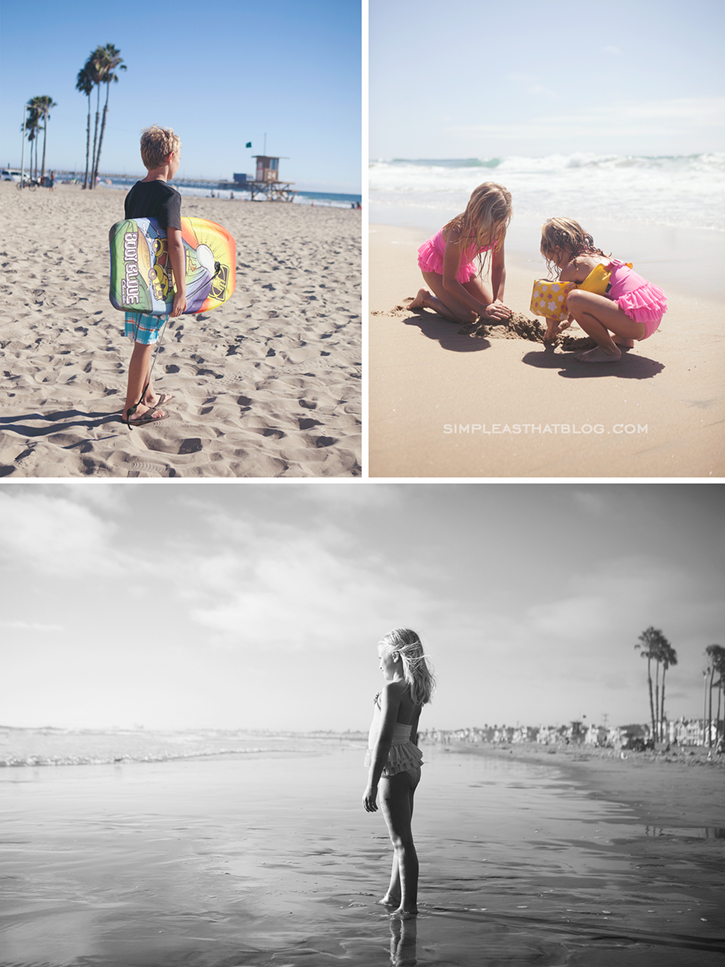 Take a rest day. We spent Tuesday, Wednesday and then Friday at the park and were so glad we took a rest day in between. We headed to the beach and it was just the change of scenery and and bit of rest we needed. We slept in on the Thursday and after a slow breakfast and a dip in the hotel pool we went to Huntington beach and splashed in the waves and enjoyed some yummy fish tacos at a little hole in the wall place just off the boardwalk. I'd totally advise breaking up your days at the park if you have the option. We were pretty exhausted by day two and the break was refreshing and just what we needed to be able to hit the park on Friday all day, one last time!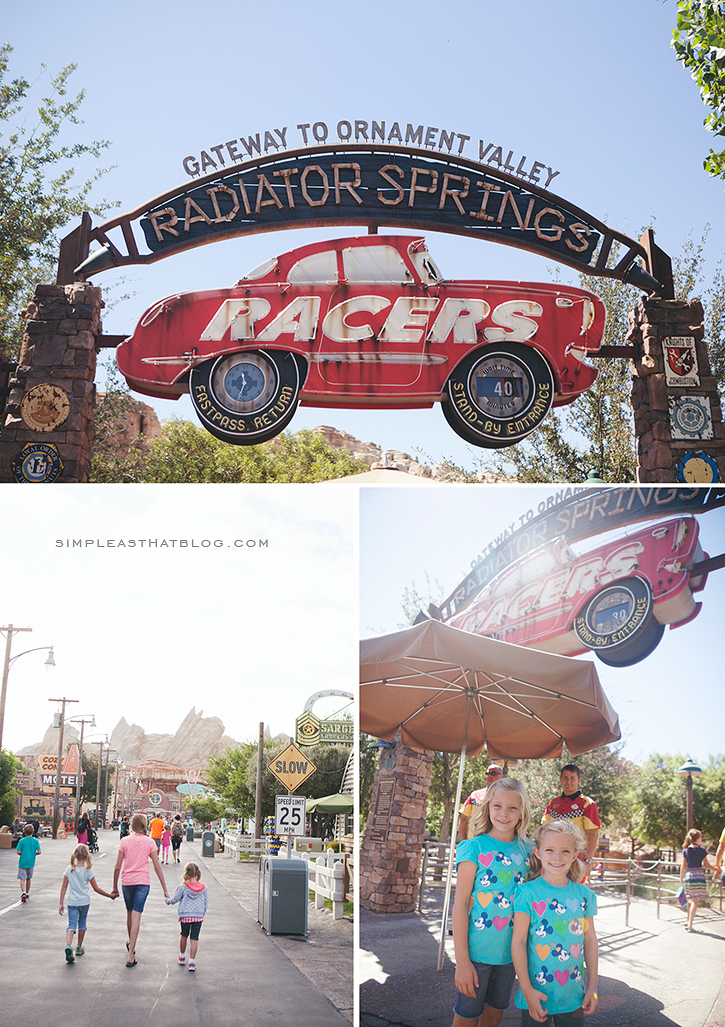 Divide and conquer. Wait times at some of the rides weren't too bad while we were at Disneyland, but we did take advantage of the Fast Pass system as often as we could. My husband and I would tag team waiting in line and getting fast pass tickets for the next ride and it really helped cut down on our wait times. If we were on our way to a ride and saw a favourite character, sometime the kids and I would stay and get a quick photo while my husband went ahead and got in line for the next ride, then we would meet him in line when we were done. Our cell phones were so important in being able to communicate and divide and conquer with the lines and the portable phone recharger we brought along was seriously a lifesaver! We used our phones to take photos and videos, to keep in touch with each other and to check the wait time app we downloaded – which was super helpful!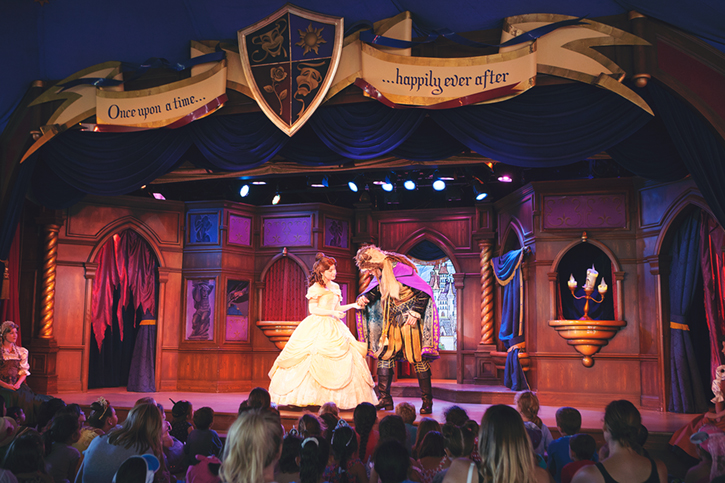 Character Sightings. We read ahead of time and asked while at the park, where the best places were to spot some of our favourite characters. The kids each had a small list of their 'must-see' characters and we made those a priority, the rest we were happy to run into if it worked out. Collecting character's autographs was a big deal – my kids loved it – so be sure to bring some sort of autograph book and a few sharpies just in case any run out. Quick tip: My youngest daughter's favourite princess is Belle and so we asked around to find out the best way to see/meet her. If you watch the live Beauty and the Beast show inside the Royal Theatre – which was really cute and totally worth watching by the way – make sure you sit on the right hand side and stay after the performance has ended and often times Belle and a handful of cast members will come out for a quick meet and greet.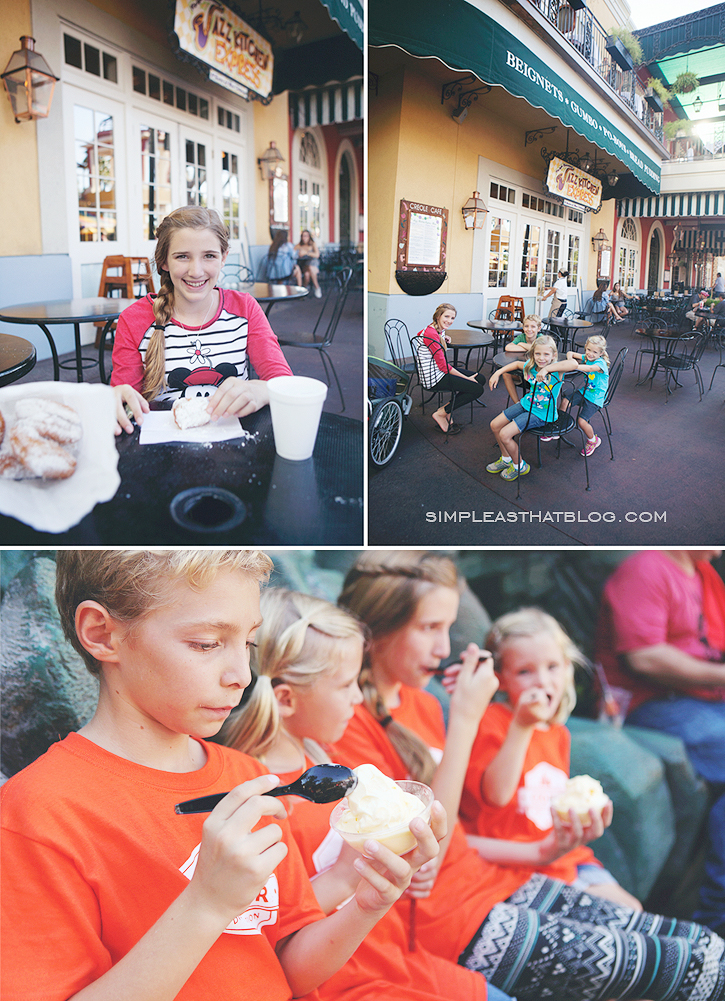 Save on food. We were able to save on food by packing our own snacks and eating outside of the park. There are some reasonably priced places to eat in Downtown Disney. One of our whole family's favourite treats were the beignets at Jazz Kitchen Express. They were a great price too at $9.99 for a bag of 10. The kids really enjoyed those and the dole whips were another sweet treat we tried. We also took advantage of the free ice water that was offered at all the park restaurants while we were there. It was really hot so we were constantly drinking and it was so great that we could get fresh, cold water whenever we needed it! Here are some great tips for eating on the cheap at Disneyland. For the rest of our meals we grabbed something quick at one of the restaurants across the street from park or just down the street from our hotel. There was a Subway, McDonald's iHop and we ordered pizza to our hotel room one of the nights.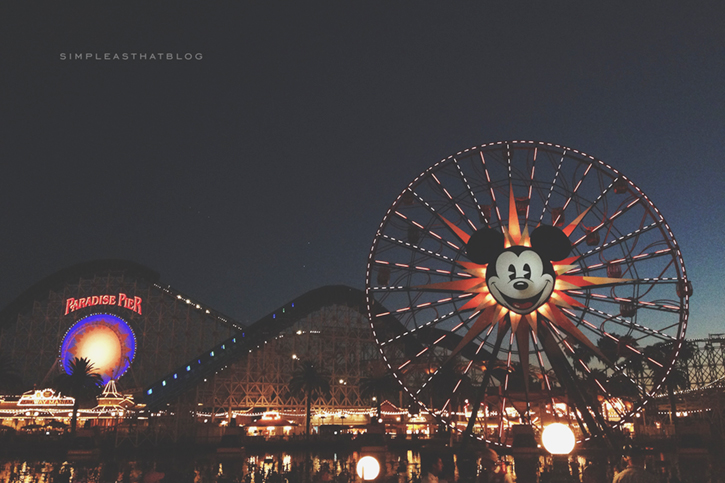 A stroller is a must. Our youngest is four and even though she was fine walking around for a good part of the day, she did get tired and it was so great to have the stroller for those moments. The stroller also carried all our water bottles, jackets for when it cooled off at night and an extra pair of shoes for everyone in case their feet got sore. I was worried that the stroller wouldn't be safe when we left it to go on rides, but I was so wrong! There are strollers all over the place and it's perfectly safe to leave them in the designated stroller parking areas while you go on rides. The stroller was also the perfect place to sit for our two youngest to enjoy the parade or the world of colour light show at the end of the day.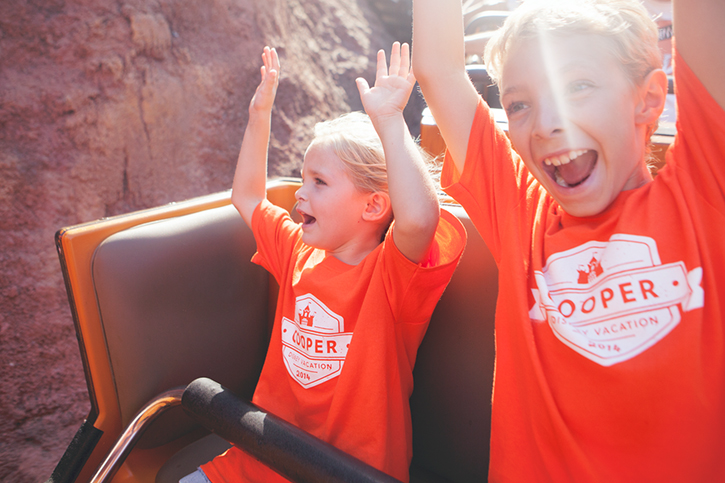 Photo pass. I wish I'd figured out the whole photo pass thing before we left and purchased it far enough in advance of our trip to save on it. We only got a handful of ride photos but I did have the park photographers snap as many photos as I could of our whole family with my camera. Next time we go I'll definitely consider purchasing the photo pass ahead.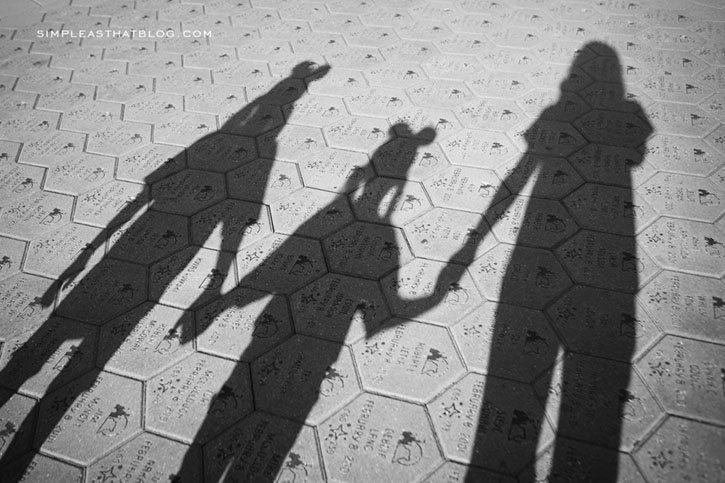 I could go on and on about how much fun we had on our trip! Our kids were the perfect ages! Our youngest was 42 inches tall which meant she could go on almost all the rides so it was really nice to be able to go on many of them together as a family. Our favourite rides were Radiator Springs Racers, the big kids loved going on the California Screamin' Roller Coaster with Dad, Space Mountain and Splash Mountain were also favourites. We really liked Toy Story Midway Mania, Goofey's Sky School, the Grizzly River Run and Big Thunder Mountain Railroad was one we went back to again and again – our youngest loved it!  Those are just a few of the many rides we loved.
If you have any questions about our Disneyland trip that I didn't cover – I'm sure I missed all kinds of details – please feel free to ask in the comments! I'd love to answer and help out in any way that I can and I'm sure there are people reading who are much more qualified Disney experts who can chime in as well. I'd love for this post to be a place for people to come for all kinds of tips and tricks for their first Disney experience!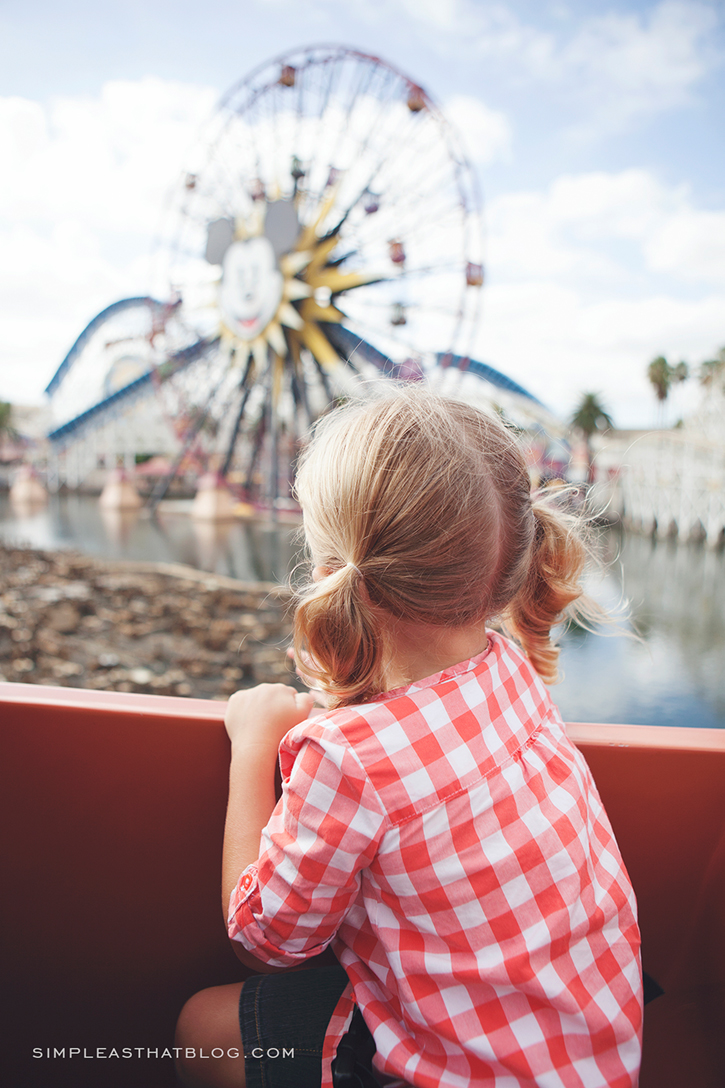 In fact, I asked my friends on the Simple as That Facebook page if they had any tips for Disney first-timers and there were over 25 great tips/tricks and pieces of advice that were shared. I put everyone's tips into one simple printable that you can download and print if you're planning a trip to Disneyland any time soon.
>> Click here to download Tried and True Disney Tips and Tricks Printables << 
---

EXCLUSIVE DISNEYLAND DISCOUNT
Travel during September to get Adults at Kids' Prices on 3-Day and longer Park Hopper® Tickets, or take your kids in October during Fall Break! Either way, you're in for a treat.
Get Away Today is also offering all Simple as That readers exclusive hotel discounts PLUS $10 off a Southern California vacation package which can be combined with any current specials they're running! This is amazing and you aren't going to find prices like this anywhere else!!
USE COUPON CODE —> SIMPLEASTHAT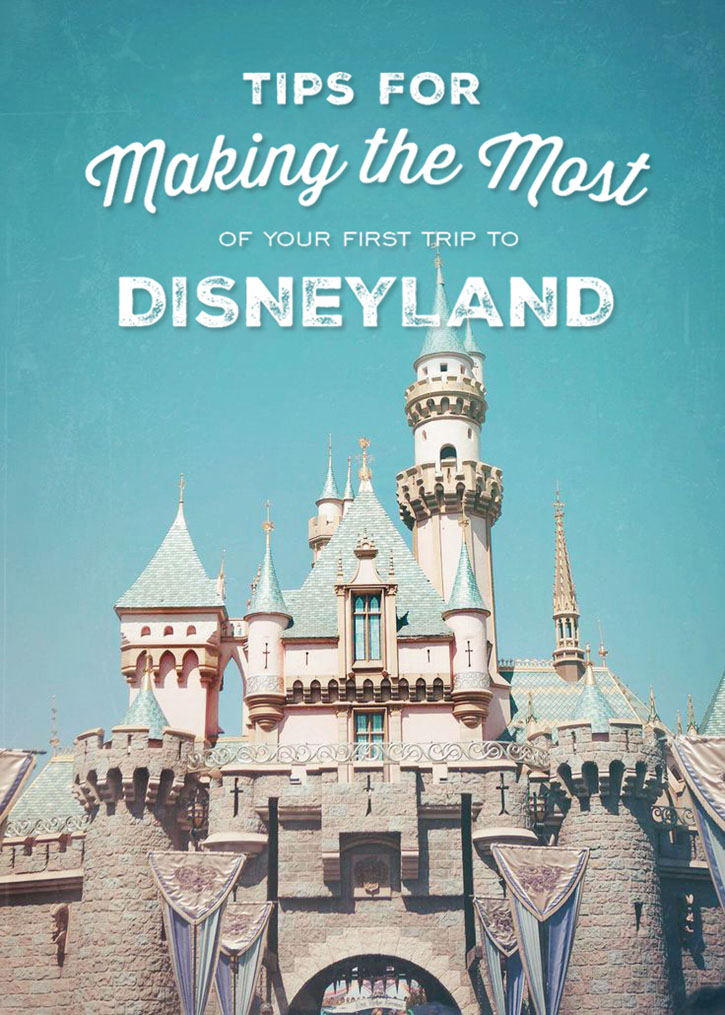 Looking for more Disney Inspiration and Tips?  Check out these posts.
How we Surprised our Kids with our the News of our Trip to Disneyland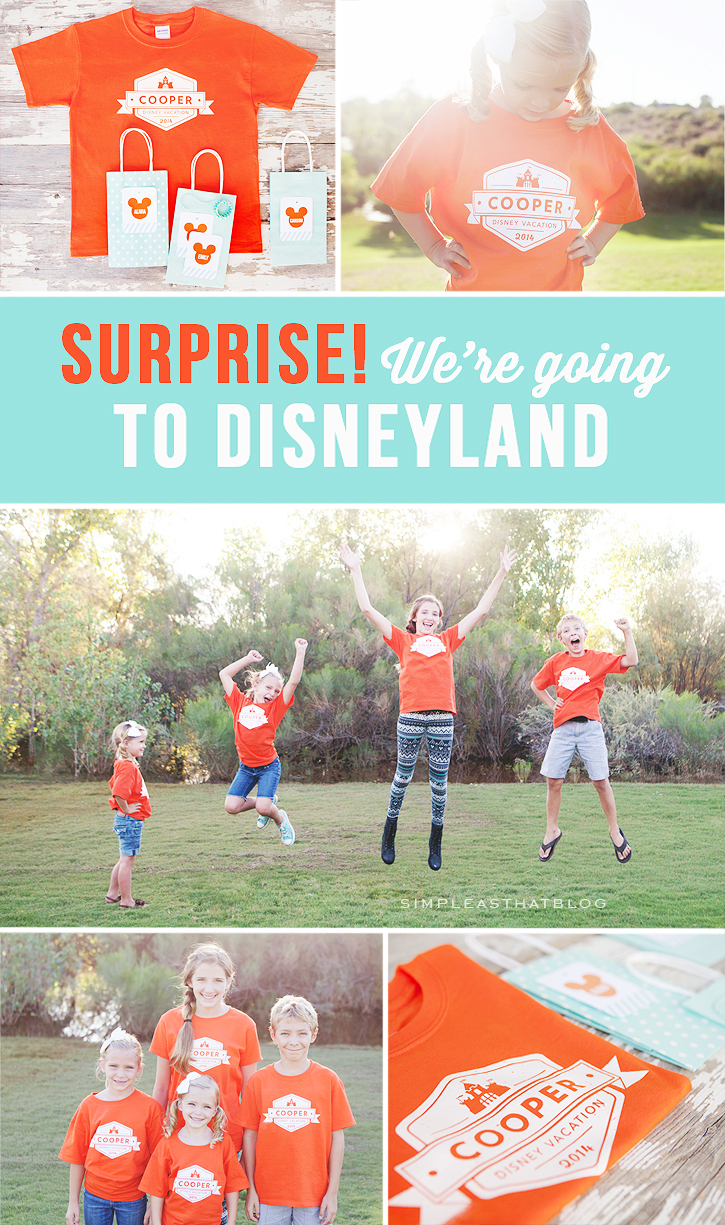 Free Printable Disney Themed Journaling and Filler cards for recording your Vacation memories.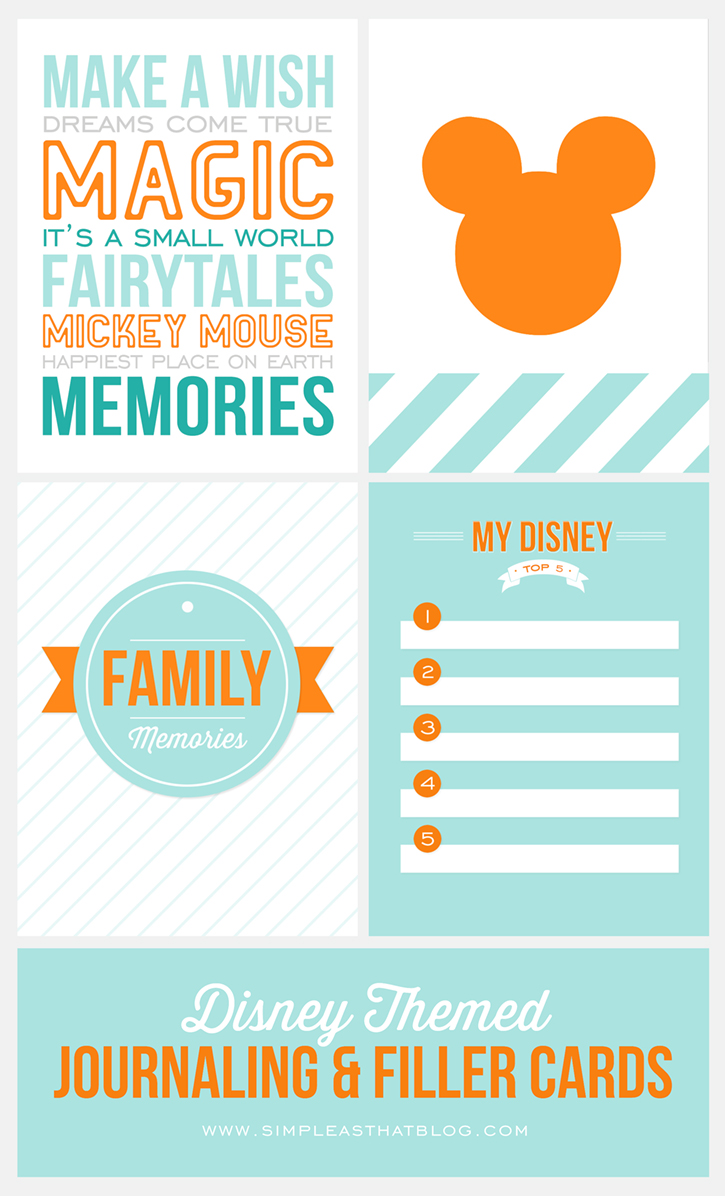 Tips for Capturing Memorable Photos of your Disney Vacation