Black Forest Overnight Oats – a delicious blend of cherries and chocolate that make this cold oatmeal recipe a breakfast treat.  Made the night before in the refrigerator and ready to eat on the go!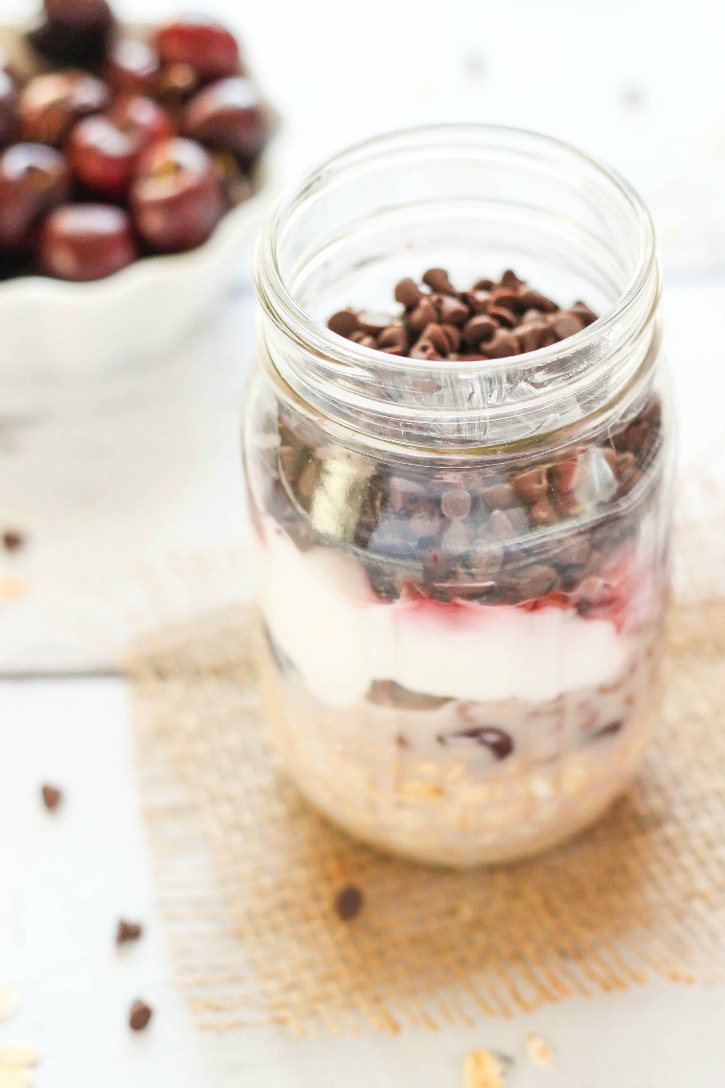 Hello there!  It's Katie from The Casual Craftlete blog.  I am excited to share my first recipe post of 2016 on Simple As That.  Today I am sharing a very simple and easy recipe for Black Forest Overnight Oats.  Black Forest is a combination of cherries and chocolate and it's one of my absolute favorite flavors.  I am a big fan of oatmeal recipes because they are heart healthy, keep you full for hours, and very inexpensive.
This overnight oatmeal recipe is made the night before by layering basic smoothie-type ingredients and oats in a jar.  The oats soften overnight making a ready to eat breakfast in the morning.  It's basically a way of making oatmeal without having to cook the oats.  If you have never tried overnight oats you might think it's crazy to eat cold oats, but they are actually delicious.  I scarfed down this jar in a matter of minutes because it was that good.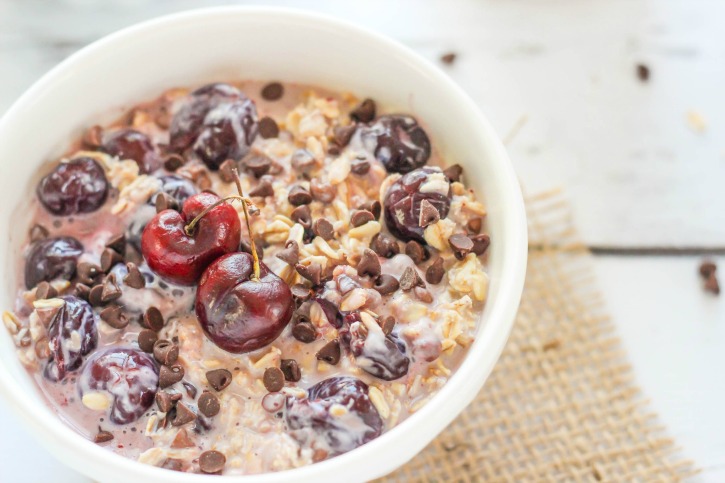 I like to use frozen cherries for this overnight oats recipe.  They are already pitted and thaw out in the refrigerator.  Also, I add lots and lots of mini chocolate chips because they are delicious and go so well with the dark cherries.  In between the layers of cherries and chocolate are low-fat Greek yogurt, milk and rolled oats.
I make this Black Forest Overnight Oats in a mason jar with a lid.  The next morning when I am in a hurry, I can just grab the jar and head out the door.  Or, you can pour the overnight oats into a bowl and enjoy.  Either way you are still getting the delicious flavors and a hearty breakfast.
Black Forest Overnight Oats
Ingredients
½ cup rolled oats
½ cup low-fat milk
¼ cup low-fat plain Greek yogurt
½ cup frozen cherries, pitted
¼ cup mini chocolate chips
Instructions
Add oats to the bottom of a glass mason or container of your choice and pour in milk. Alternate between layers of cherries, yogurt, and chocolate chips. Seal container with lid and place in refrigerator overnight. Enjoy in the morning.
Thank you for letting me share my Black Forest Overnight Oats recipe!  I hope you enjoy it.
If you liked this recipe, you should check out my blog, The Casual Craftlete, for more recipe and craft ideas!