Blueberry Peach Oatmeal – a delicious and healthy oatmeal recipe made with freshly picked blueberries and peaches.  Great for a quick hearty breakfast on the go!
Hey y'all!  It's Katie from The Casual Craftlete blog.  Today I am sharing a quick and easy breakfast recipe.  This Blueberry Peach Oatmeal is the perfect oatmeal recipe for back to school because it can be made in just 5 minutes.  That's my kind of breakfast for on the go.  This oatmeal is very hearty and will keep you full until lunch.  It has just the right amount of sweetness from the blueberries and peaches, but I add a drizzle of honey for extra syrupy goodness.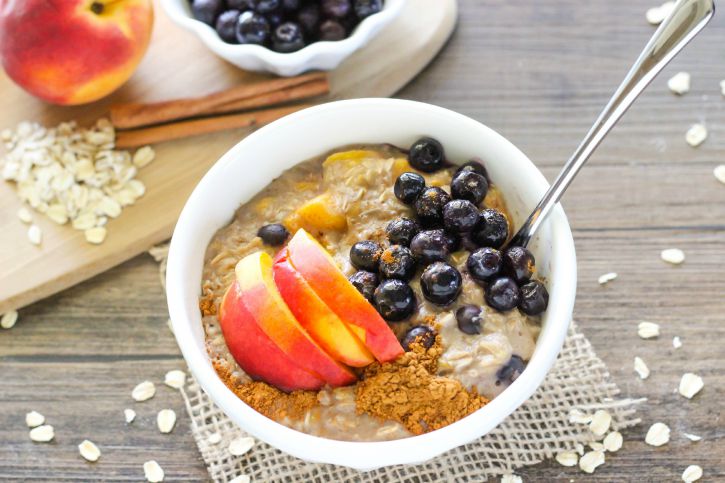 I love blueberries and peaches together.  The first time I had this delicious combo was last year when I was working at a pie shop.  The owner made a blueberry peach pie that was to die for.  There is just something about this flavor combination that is so good.  For this recipe I used fresh blueberries and peaches from local farms.  If the fruits aren't in season, you can always use frozen fruit.  Just make sure to thaw them out before making this recipe.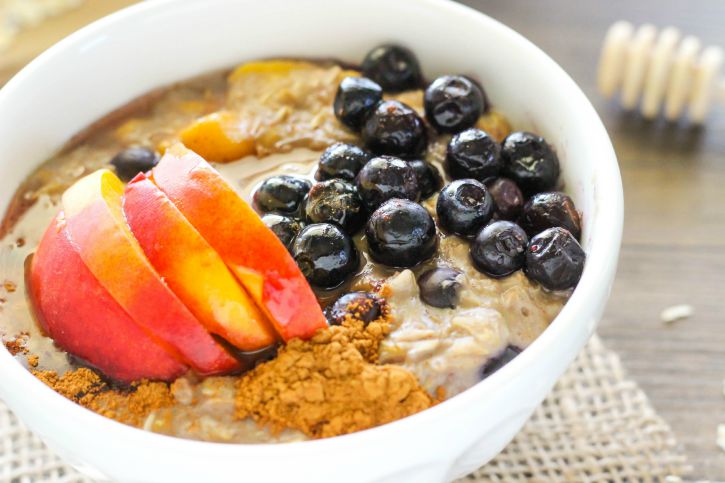 For this blueberry peach oatmeal I used:
Ingredients:
1/2 cup old fashioned oats
1 cup almond milk (you can use your favorite milk)
1 cup of peaches, cut into chunks, divided
1/2 cup of blueberries, divided
1/2 teaspoon of vanilla extract
1/4 teaspoon ground cinnamon (more for topping)
a pinch of salt
a drizzle of honey
Directions:
Combine oats, milk, 1/2 cup peaches, 1/4 cup blueberries, vanilla extract, 1/4 teaspoon ground cinnamon, and a pinch of salt in a medium size sauce pan over medium heat.  Stir the ingredients until the oats start to thicken and get soft, about 5 minutes.  Everyone likes their oatmeal at a different consistency, so just cook the oatmeal how you like, whether that's soft and mushy or slightly under cooked.  It's totally up to you.  Then top your oatmeal with the remaining blueberries and peaches, and a sprinkling of cinnamon and drizzle of honey.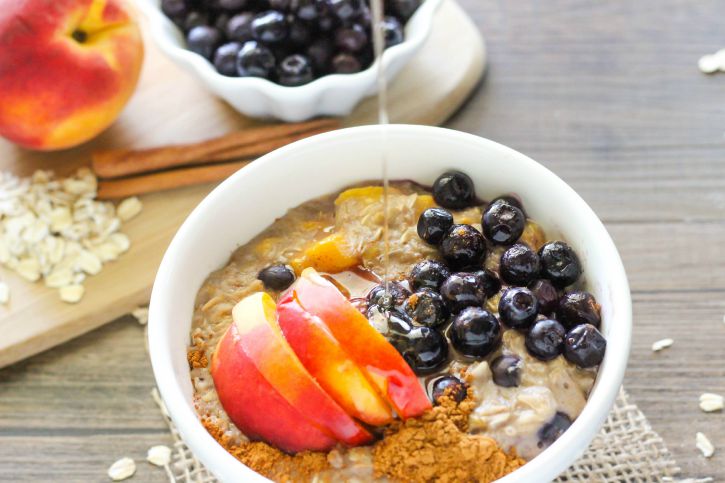 Not only is this blueberry peach oatmeal great for the kids, it would be perfect to have after a post run or workout.
 I hope you enjoy my Blueberry Peach Oatmeal!  What is your favorite oatmeal recipe?
YOU MIGHT ALSO LIKE:
Healthier Peach Crisp – a delicious lightened up version of the classic peach crisp.  This crisp is vegan, dairy, grain and gluten free.  Eating healthier doesn't mean you have to sacrifice flavor.