Mini Monkey Breads – Start a holiday tradition with these little cups of goodness. They're ready in half the time of a traditional monkey bread, but with ALL the delicious flavor!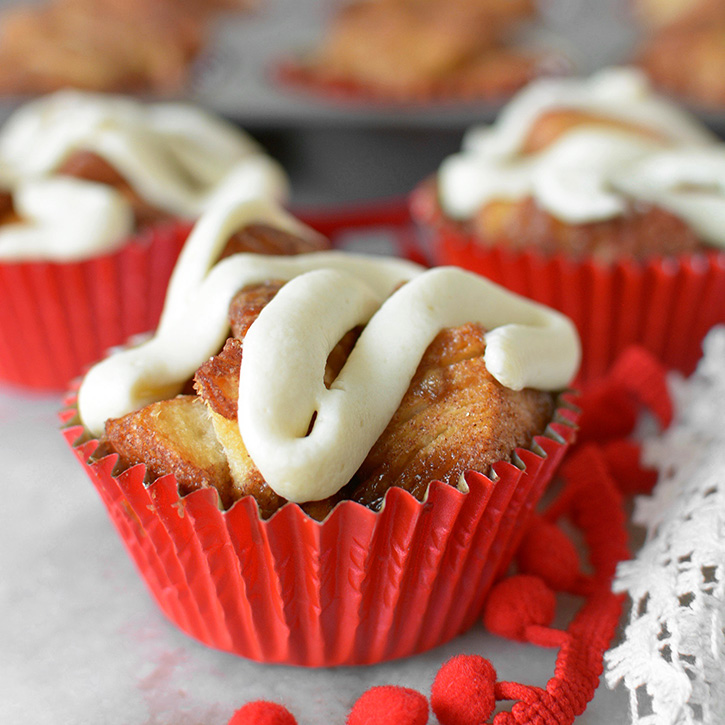 Growing up, it was the job of my Dad and I to wait in line for fresh, hot, sticky cinnamon buns on Christmas Eve. We'd bring them home and the smell would taunt us with the promise of sweet things to come, but no one was allowed a taste until after all of the presents had been opened on Christmas morning. Once that last present was opened, us kids would race to the kitchen and fight over who got the biggest one and the most icing. Lucky for me, I was the oldest and usually made out pretty well in the end…
Those cinnamon buns were such a delicious tradition and sweet childhood memory.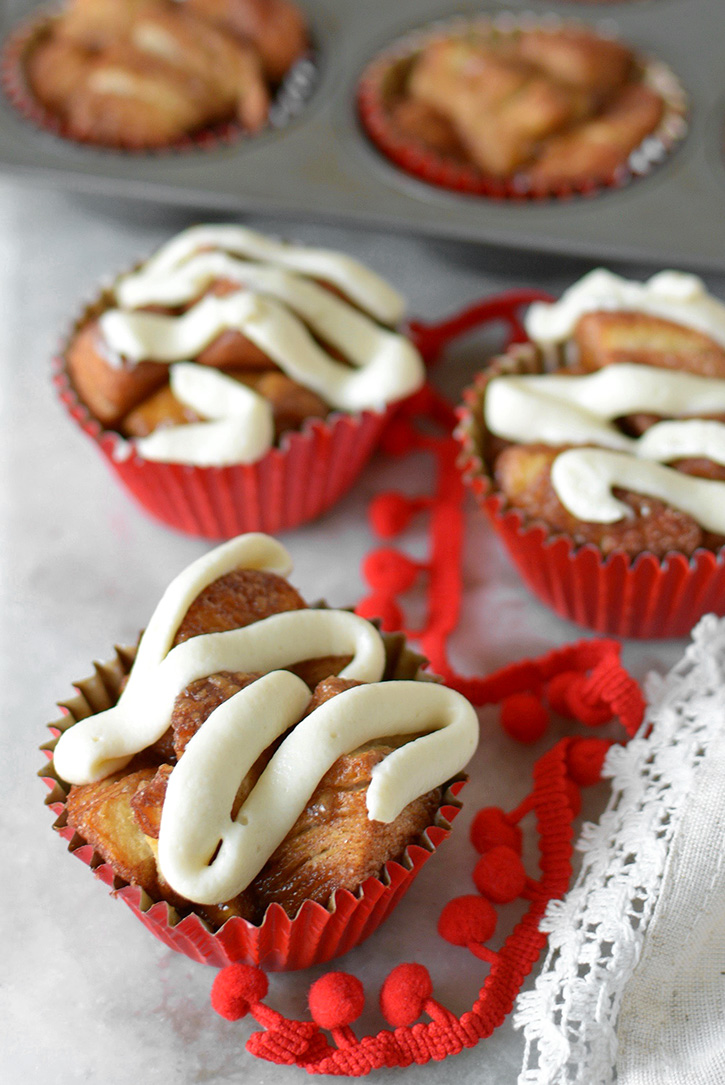 Now that I'm grown, that bakery is closed, but I've carried on the sticky, cinnamon-flavored tradition for my family with homemade Christmas morning monkey bread. During previous years I've made one large monkey bread in a bundt pan. It always turned out delicious, but my complaint has always been that it takes too long to bake (almost an hour). In our home, Christmas morning is busy, as we engage in all of our family traditions before we pack up the car and make our way to visit the grandparents.
That's why this year I developed this recipe for Mini Monkey Breads.
They take about 10 minutes to prep and 15 minutes to cook, which means a tasty, Christmas morning cinnamon treat is ready for the kids (and Mom and Dad) to dig into in under half an hour!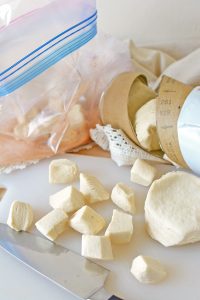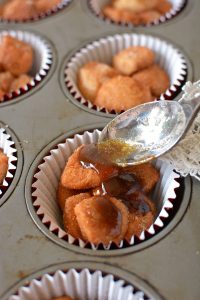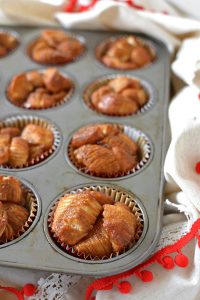 Now, if you like smothering monkey bread in frosting, head over to my blog Simple Seasonal for my recipe for Copycat Cinnabon Frosting. According to my sisters, who each have an excellent sweet tooth, it tastes just like the real thing. A combination of butter and cream cheese, and not to mention that secret ingredient!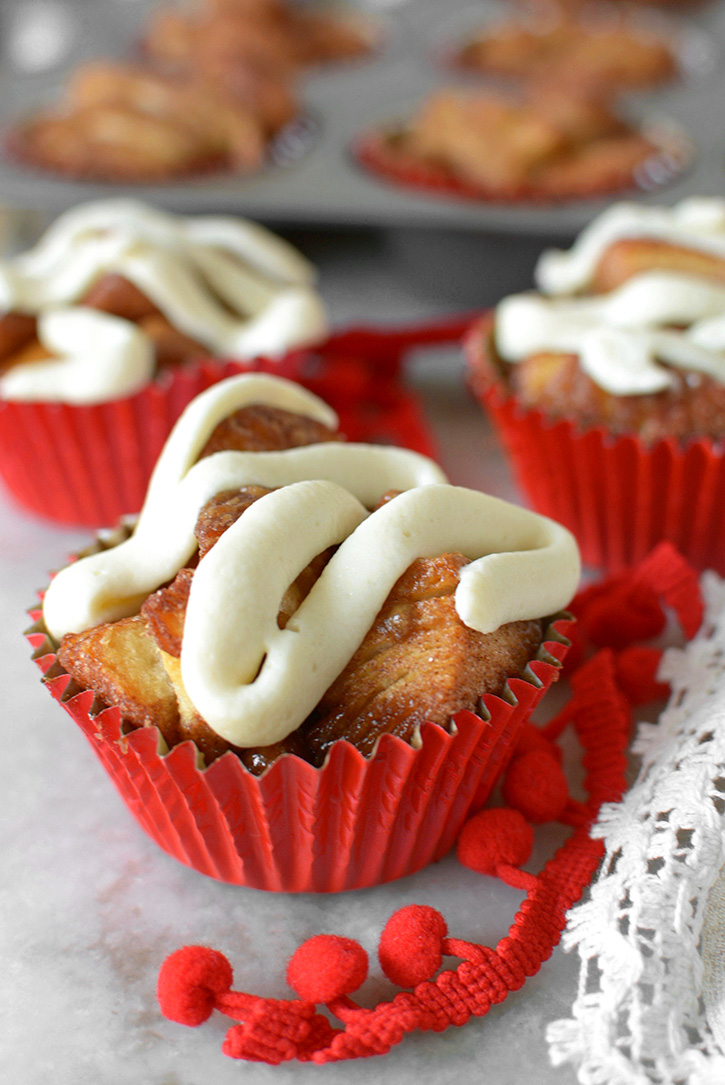 Mini Monkey Breads
Ingredients
⅓ C granulated sugar
1 tsp cinnamon
1 can 8 count flakey biscuits (Immaculate)
5 Tbsp butter
¼ C packed dark brown sugar
¼ tsp vanilla
Instructions
Combine the granulated sugar and the cinnamon in a ziplock bag. Cut each of the biscuits into 9 pieces, add them to the bag, and shake to coat with the cinnamon and sugar mixture. Line a muffin tin with 12 cupcake liners and evenly fill each with the cinnamon and sugar biscuit pieces.
In a small saucepan melt together the butter, dark brown sugar, and vanilla, but don't allow it to begin to bubble. Stir to evenly combine. Spoon about a tsp of the butter mixture onto each muffin.
Bake in a 350ºF oven for 15-17 minutes. Best if served warm.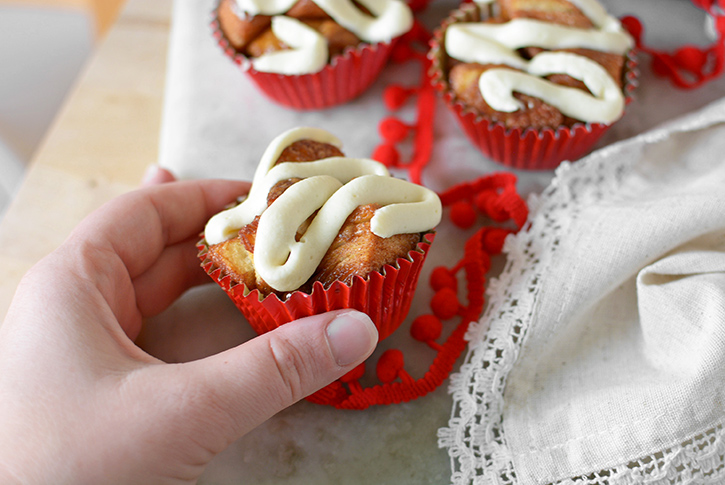 Want some frosting for your Mini Monkey Bread??? Check out my recipe for Copycat Cinnabon Frosting on my blog, Simple Seasonal