This Oven Roasted Turkey and Cheese Sandwich is a delicious and easy recipe made with wholesome, all-natural ingredients.
This is a sponsored conversation written by me on behalf of Sargento® Sliced Cheese. The opinions and text are all mine.
There is just something about a fresh and all-natural sandwich that is pleasing to the palate and warm to the soul.  Everything tastes better when it is crisp.  This Oven Roasted Turkey and Cheese Sandwich is made with organic turkey breast, beef steak tomato, lettuce, whole-grain bread, and 100% real natural Sargento® cheese.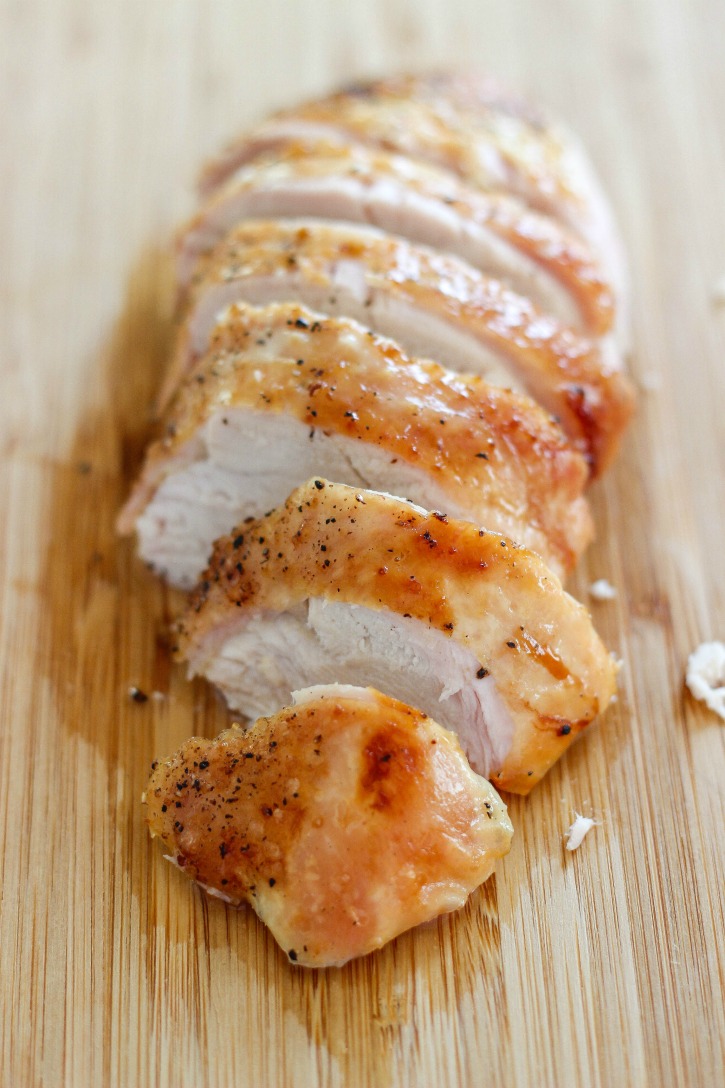 This sandwich recipe starts by oven roasting a 3 to 6 pound thawed turkey breast.  If you have never cooked a turkey in the oven, don't be scared.  This recipe is so easy and is made with simple, real ingredients.  All you need is a roasting pan with a wire rack.  Season the turkey breast with salt, pepper, and butter.  Follow the cook time on the package but it usually takes 2 to 2:30 hours to cook a 6 pound turkey breast.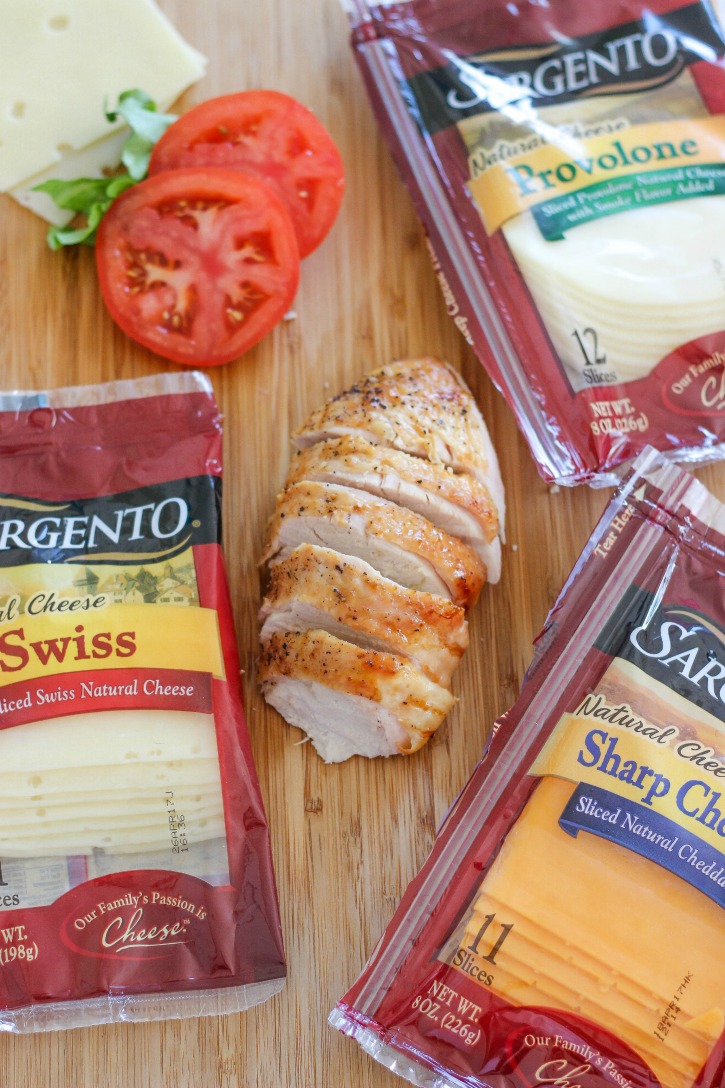 Once the turkey breast is cooked, you can start building a sandwich.  I use organic whole-wheat bread, beef steak tomatoes, lettuce, and Sargento® cheese slices.  Some favorite condiments are mustard, mayonnaise, and horseradish.  I like to buy the ingredients at my local farmers market or neighborhood co-op because I like to support local farmers and I know that the produce and goods are fresh.  It is important to me to feed my family wholesome meals.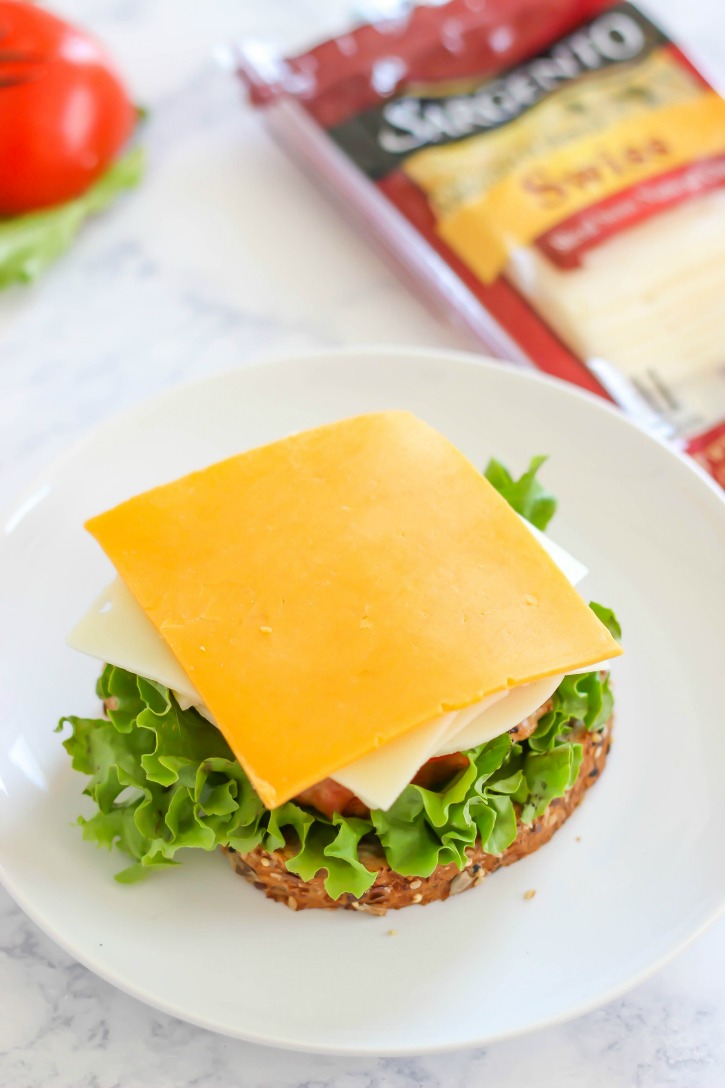 Sargento® Slices are always 100% real, natural cheese.  Pasteurized Process Cheese Food (PPCF), sometimes know as American singles, is only required to contain 51% real cheese.  I don't know about you but I prefer the better tasting real cheese slices.  Sargento® cheese comes in many varieties and some of my favorites are:  Swiss, Sharp Cheddar, Provolone and Pepper Jack.
This Oven Roasted Turkey and Cheese Sandwich is perfect to make anytime of year for a healthy and wholesome lunch or dinner.  Since the Thanksgiving holiday is coming up soon, this recipe would be perfect for leftover turkey too.  A turkey breast will provide one weeks worth of sandwiches.  A 6 pound turkey breast will serve 6 to 8 people.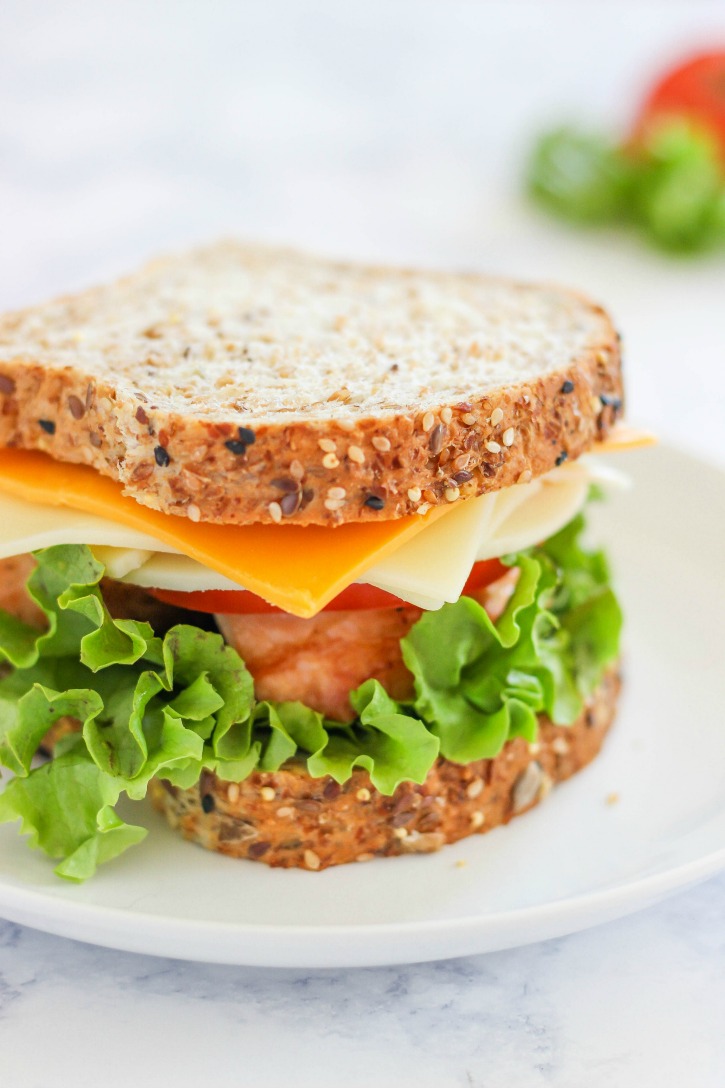 Oven Roasted Turkey and Cheese Sandwich
A wholesome sandwich made with oven roasted turkey and 100% all natural cheese slices.
Ingredients
turkey breast:
3 to 6 pounds thawed, bone-in, skin-on turkey breast (1 half-breast or 1 whole turkey breast joined at the breast bone)
1 tablespoon butter
1 tablespoon kosher salt
½ teaspoon black pepper
sandwich ingredients:
Sargento® cheese slices
whole-grain bread
lettuce
beef steak tomato
Condiments: mustard, mayonnaise, horseradish
Instructions
Transfer the turkey breast to the rack inside a roasting pan. Let the breast warm on the counter while the oven heats.
Preheat the oven to 450°F. Place an oven rack in the bottom third of the oven.
Pat the skin of the turkey breast dry with a paper towel. Rub the turkey breast all over with butter. Sprinkle the breast all over with salt and pepper.
Place the prepared turkey breast in the oven and immediately lower the heat to 350°F. Roast for 1 hour, then begin checking the temperature.
The turkey is done when it reaches 165°F in the thickest part of the breast meat. Start checking after 1 hour of roasting and continue checking every 10 to 15 minutes until the breast is cooked through.
If the skin over the breast meat begins to brown too darkly toward the end of cooking, cover it with aluminum foil to prevent burning.
Remove the turkey from the oven and cover it loosely with foil. Rest the turkey for 15 to 20 minutes.
Carve the turkey from the bone. Cut the breast into slices.
Assemble sandwich using sandwich ingredients.
Follow Sargento® on 
Instagram
 and 
Facebook
 for more recipe inspiration using 100% real, natural cheese.