Hey there again, Simple As That readers!  It's Katie from The Casual Craftlete blog.  I hope you enjoyed the Conversation Hearts Sugar Scrub I shared last month.  Besides sugar scrubs, one of my absolute favorite things is making craft projects using scrapbook paper.  I just love all the pretty patterns and colors.
So, today I am sharing how to make these super cute Scrapbook Paper Twist Ties!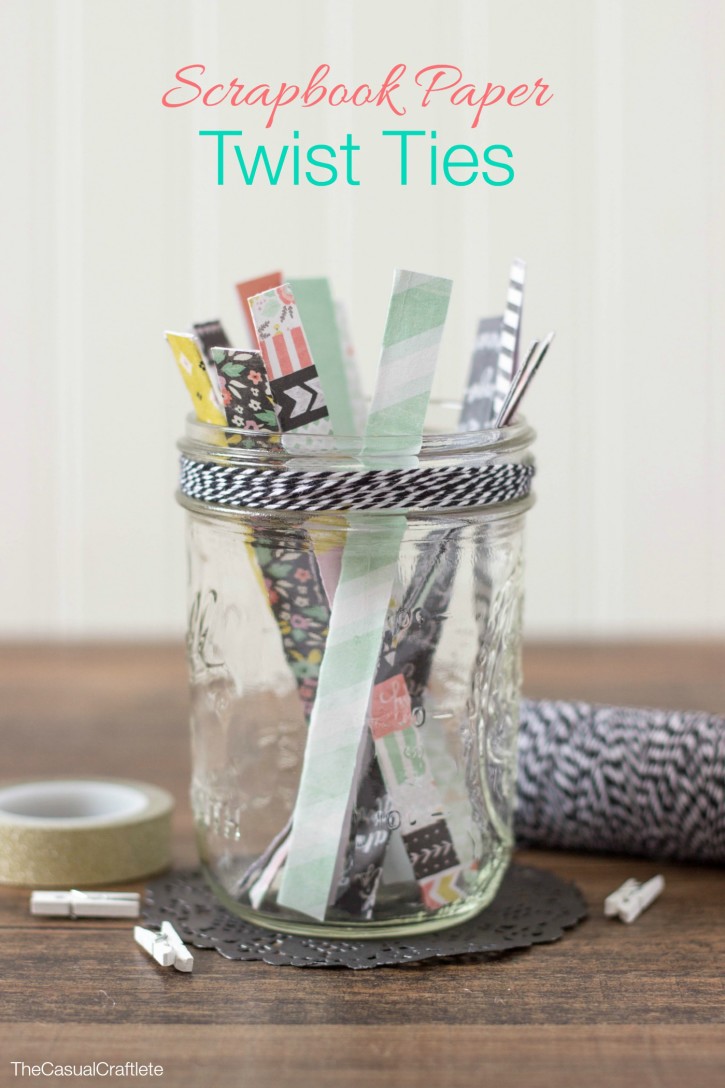 I made these twist ties for decorating gift packages and pretty wrapping.  They are not made for everyday use.  As much as I love scrapbook paper, I don't think these ties would hold up in the day to day.  BUT…they make for super cute packaging!  You can use the twist ties on plastic bags, paper straws, or add to kraft bags.  It's totally up to you on how to use them.
Here are the supplies I used to make these Scrapbook Paper Twist Ties:  
Scrapbook paper pad (I used a 6″ x 6″ pad)
Ruler
Scissors
24 gauge wire
Adhesive tape or glue
Here is how I made the twist ties:
First, I started by cutting 1 inch stripes of paper.  I used We R Memory Keepers 6 x 6 Chalkboard paper pad.  So, the dimension of each twist tie is 6″x 1″.  I played around with sizes and think this size works the best.  I love the spring like colors and modern patterns of this paper pad.
Next, fold over each cut strip of paper in half.  I found that if you bend the paper slightly before folding it over, it won't tear the paper.  Just be gentle when you do this step.  Paper is slightly sensitive, ya know.
It's kind of hard to see in this picture, but what I did next is applied adhesive tape to both sides of the folded paper.  You could also use craft glue.  Just make use you use an adhesive that is strong and durable and that will keep the paper from popping open.
Then I cut a piece of the 24 gauge wire to fit inside the scrapbook paper strip.  I used regular scissors to cut the wire.  Just be careful.  You might want to wear eye protection for this step.
Fold your paper over nice and tight until the ties are completely closed together.  That's it.  I seriously made a ton of these ties in no time.  They are super easy to make.
Add these scrapbook paper twist ties for a cute gift packing idea!
 You can also find me hanging out here:
Facebook | Pinterest | Twitter | Google + | Instagram