Strawberry Peach Smoothie – a healthy and delicious dairy-free smoothie recipe made with summertime fruits.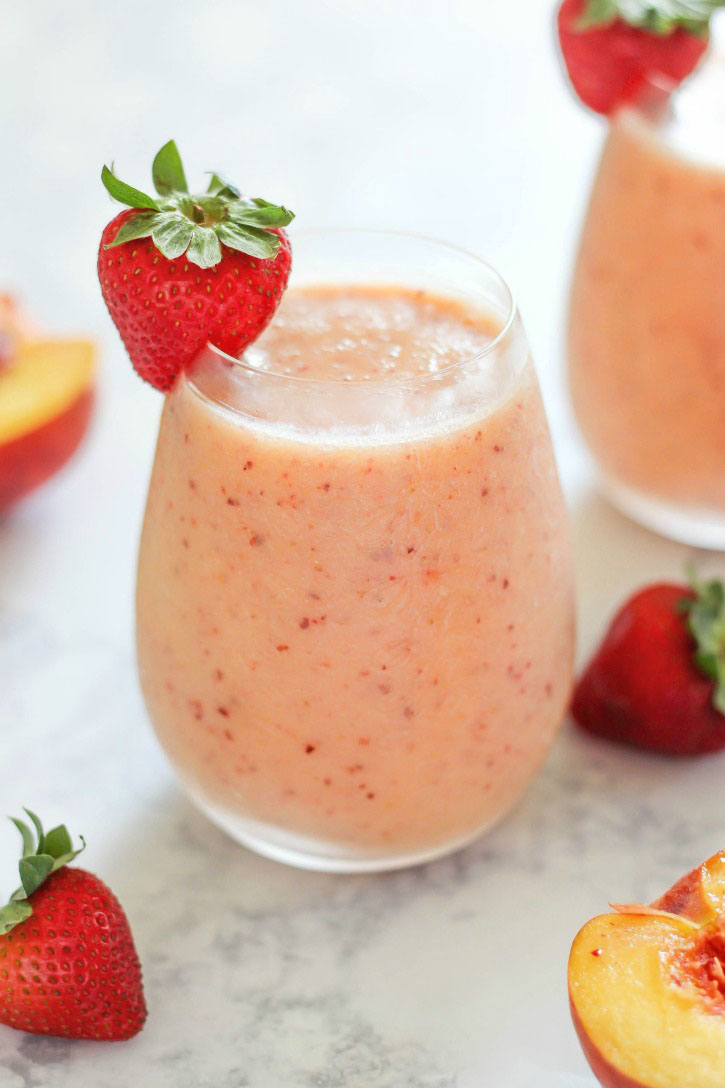 Hello there Simple As That readers.  It's Katie from The Casual Craftlete blog.  Last month I shared a tasty Mango Orange Green Smoothie recipe and today I am back with this amazing Strawberry Peach Smoothie.  This smoothie recipe is not only pretty pink but it is filled with some of my favorite sweet summertime fruits.  It's incredibility easy to make in my new Blendtec blender!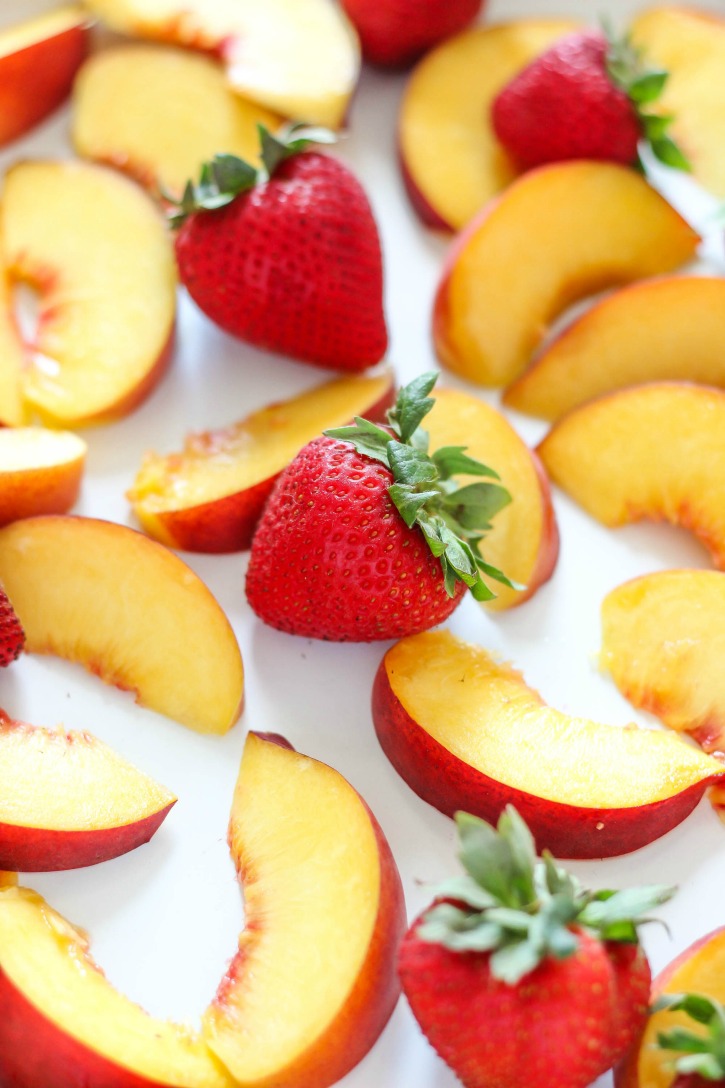 I absolutely love summer because of all the fresh fruits available.  This combination of strawberries and peaches is just perfect.  They are so juicy and sweet together.  If you have never tried this flavor combo before, I highly recommend it.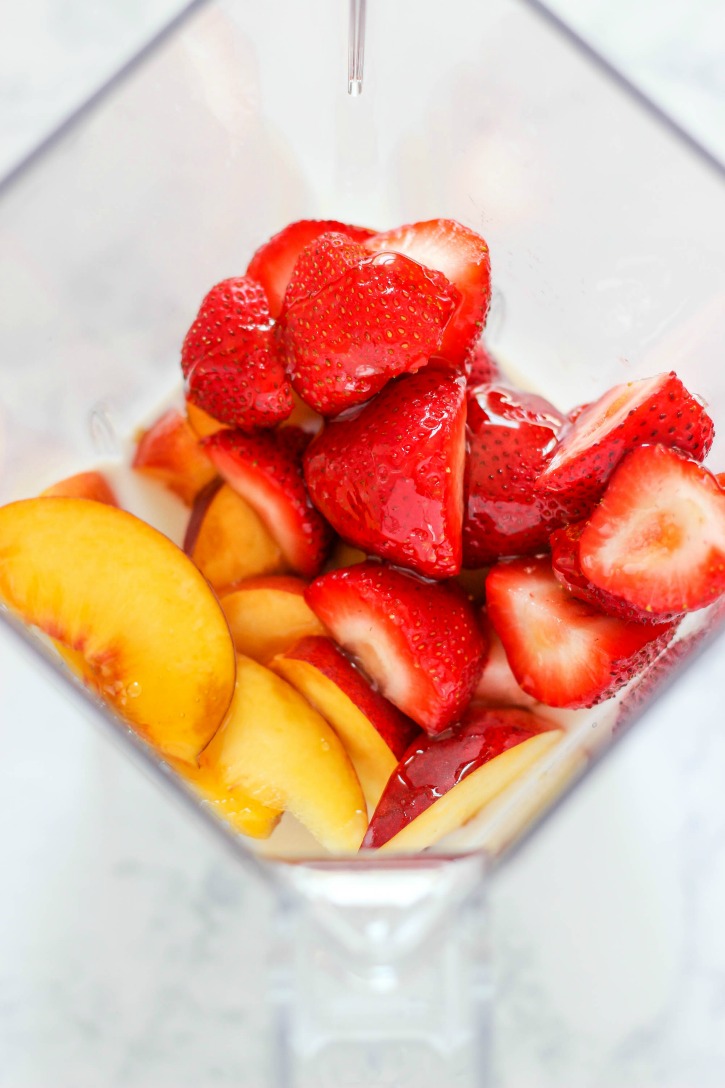 I am so in love with my new Blendtec blender!  I have had a cheap blender for a long time and have wanting for a Blendtec forever.  Let me just tell you it was definitely worth the wait.  This blender is a life changer.  It blends and purees so fast and the texture is so smooth.  It crushes ice like a dream too.  After the first time I used my Blendtec I immediately threw my other blender away.  I will never turn back.  The clean up is so incredibly easy too.  You just add 8 oz of water and a drop of dish soap into the blender and pulse for 1o seconds.  Just rinse out and boom you're done.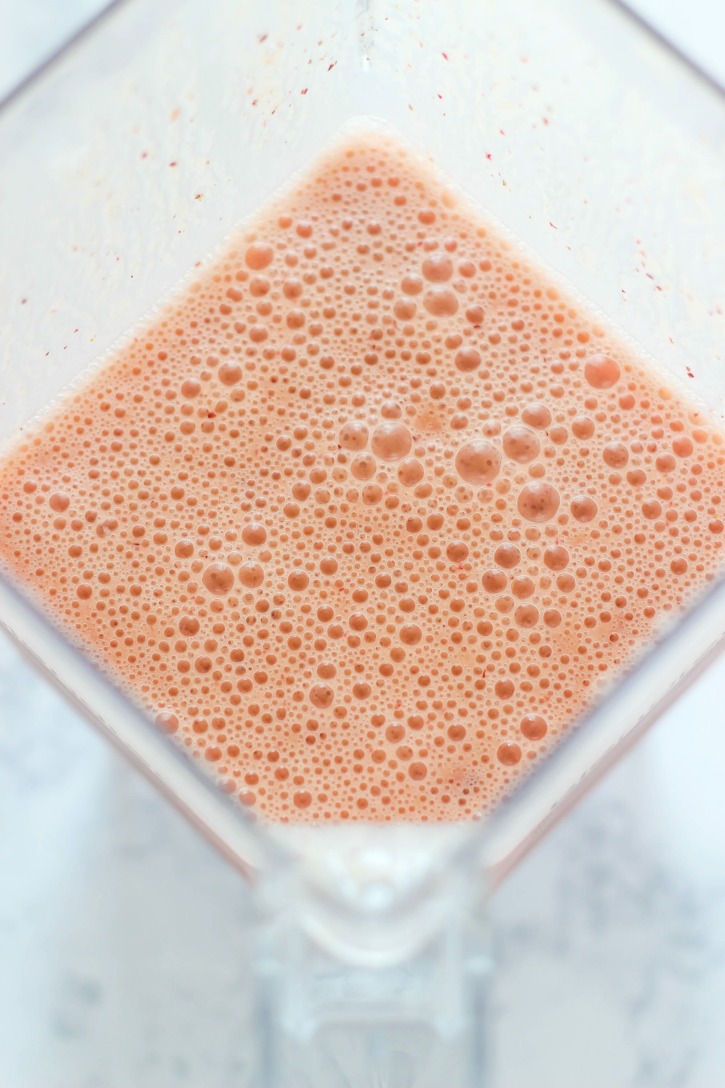 For this recipe I am using unsweetened almond milk, frozen banana, honey, fresh peaches and strawberries.  This is a dairy-free smoothie but you can use your favorite milk of choice. Other great smoothie ingredients are flax seeds, chia seeds, almond butter, protein powder and so much more.  I love making smoothies because you can change up the ingredients to create a different tasting smoothie each time.  Not to mention smoothies take very little time and prep, making my life so much easier.
Strawberry Peach Smoothie
Author:
Katie @ The Casual Craftlete for Simple As That
Ingredients
⅔ cup to 1 cup unsweetened almond milk
2 cups strawberries, hulled and quartered
4 peaches, pit removed and roughly chopped
1 frozen banana
drizzle of honey
handful of ice cubes
Instructions
Place all ingredients into a high speed blender and blend until smooth and creamy. Serve cold.
a healthy and delicious dairy-free smoothie recipe made with summertime fruits.