A simple pancake recipe that the kids and dad can make all on their own. Light, fluffy, and even a make ahead pancake recipe.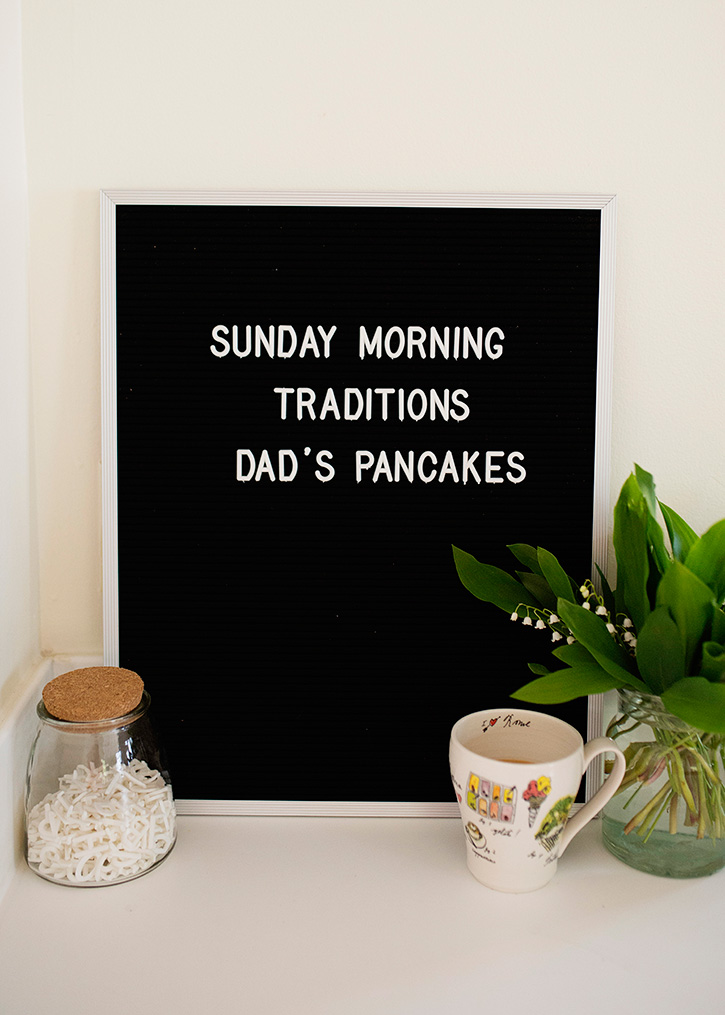 For the last year or so, my husband and the kids have taken over Sunday breakfast. The kids and dad get into the kitchen and make pancakes together. It's become a weekend tradition that I love (not just because they make me breakfast, either.) It's nice to see them in the kitchen, and working together to make a meal for everyone. I like lazy Sunday mornings and look forward to our late brunch every weekend.
We moved into a new house this week and making pancakes this weekend made it feel like home. Our home. We are still trying to figure out where everything is and how the kitchen works, but hey, you have to start somewhere, right?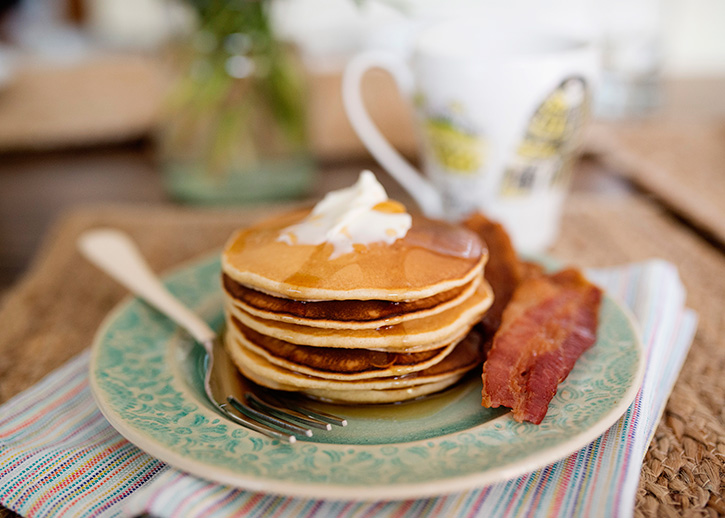 Truth be told, when they started doing this, none of them knew how to make pancakes. Or much of anything for that matter. They used a mix and usually it worked out. As they have gotten the hang of flipping pancakes, they've tried out quite a few recipes. And have all gotten much better navigating the kitchen. This one is the winner. I think that if asked the kids would say that their dad makes better pancakes than I do now. I'm okay with relinquishing my title.
I love to make myself a coffee and stand back and watch them. (It's hard sometimes to not take over, but I'm getting better.) Will is in charge of the bacon. He hasn't committed to a method, but I'm steering him towards baking it in the oven. (He figured out quickly that microwaving bacon for 5 people might not be the best way to do it.)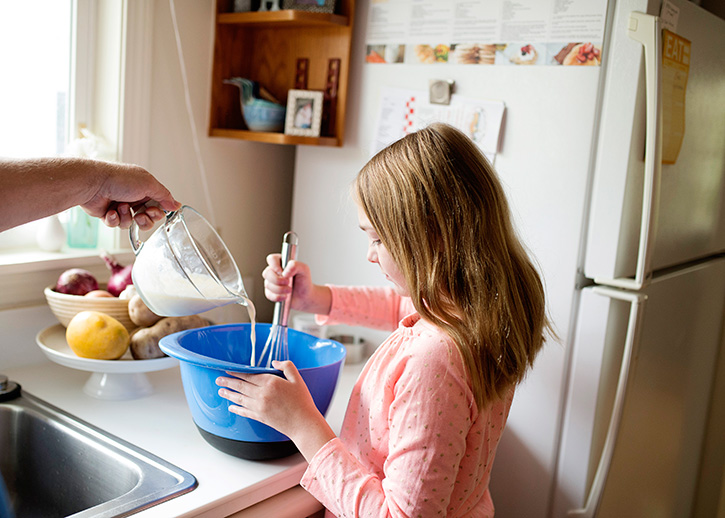 Dad and Ava make the pancakes. This recipe is a little different than most, you actually use a mixer to get the wet ingredients really light and foamy before you add the dry ingredients. This recipe is great because you can also make the batter the night before and let it sit in the fridge overnight.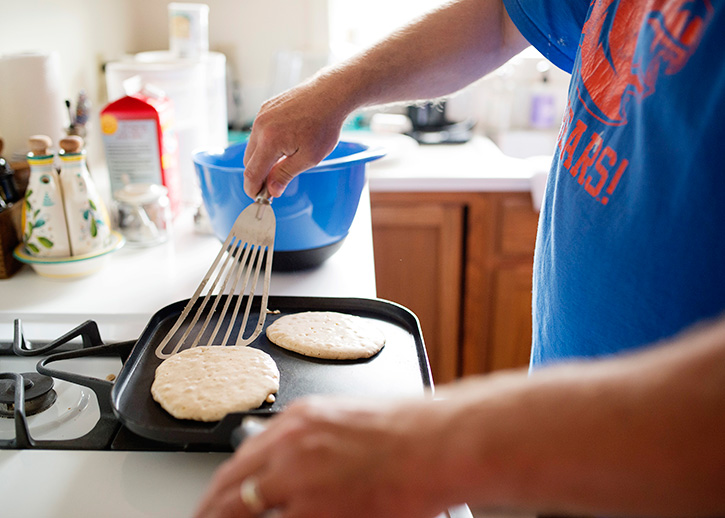 And dad is becoming a master pancake flipper.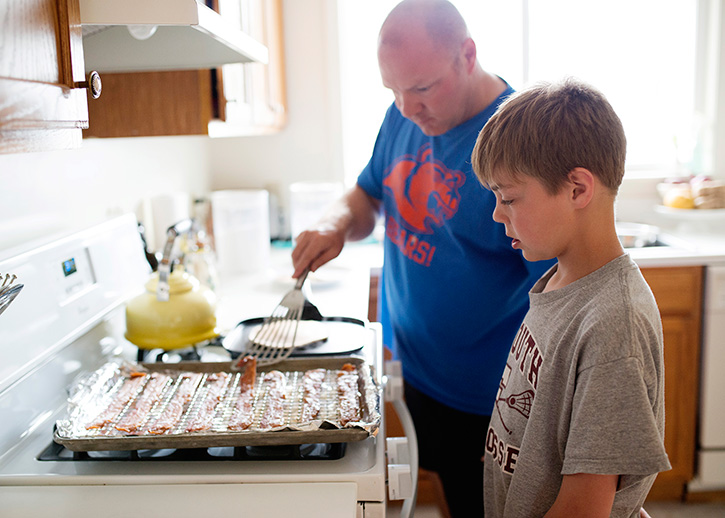 As you can tell, they take their bacon-making very seriously.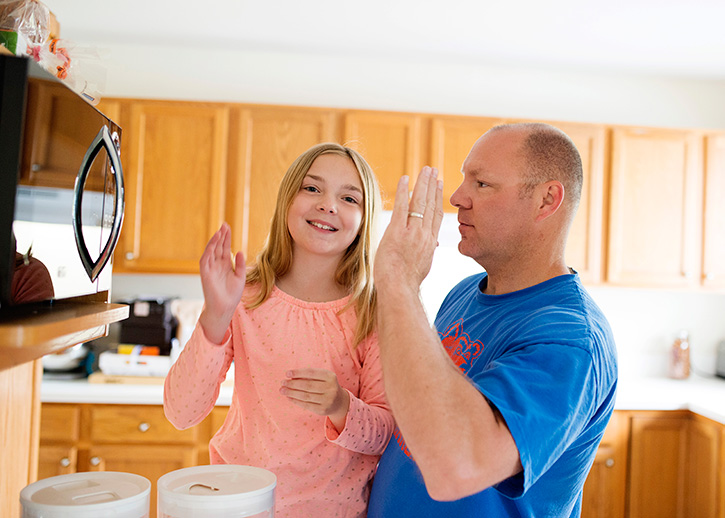 High five, they figured out how to use the new microwave.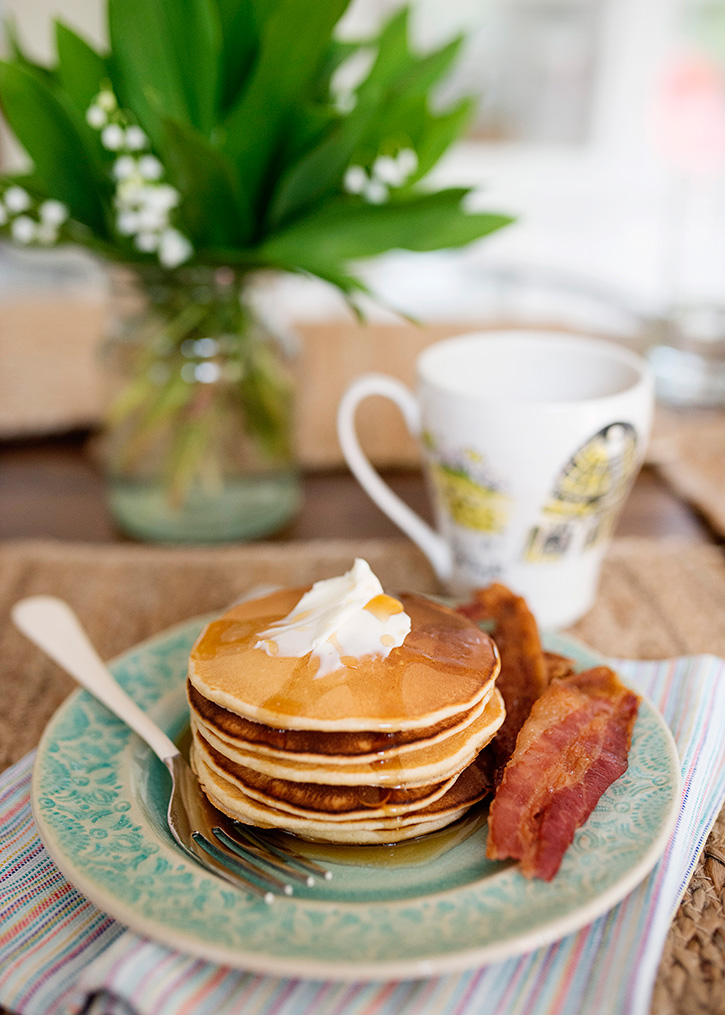 What I love the most is having everyone around the table sharing a meal. It is a nice way to end a weekend and start a new week.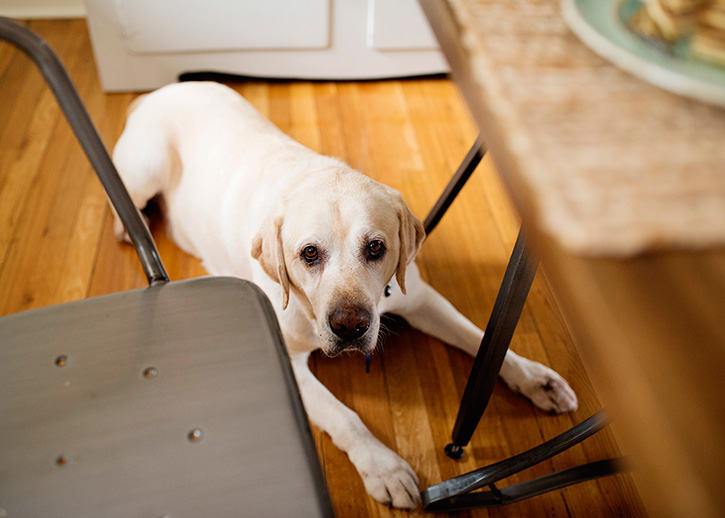 Even the pups think so. (And perhaps are waiting patiently for a piece of bacon.)

Sunday Morning Traditions: Dads Pancakes
A simple Pancake recipe that results in light and fluffy pancakes that your family will love. You can also make this batter the night before, cover and keep in the fridge until ready to use.
Ingredients
2 eggs
1¼ cups milk
2 teaspoons vanilla
3 Tablespoons melted butter
1½ cups flour
¾ teaspoon salt
2 teaspoons baking powder
2 Tablespoons sugar
1 teaspoon cinnamon
Instructions
Beat the eggs, milk, and vanilla until light and foamy on high speed in an electric mixer. It takes about 3 minutes. Add butter.
Whisk flour, salt, baking powder, sugar, and cinnamon in a separate bowl to incorporate. Add to the wet ingredients and gently mix until just combined. Let the batter stand for 10 minutes.
Preheat a griddle pan. Add a pat of butter or spray with cooking spray. Add ¼ cup of batter and cook until bubbles form and break. Flip and cook the other side. Serve immediately with butter and maple syrup.
Notes
Recipe adapted from King Arthur Flour.