Whole Wheat Strawberry Muffins – delicious muffin recipe made with whole wheat flour and fresh strawberries.  Perfect for breakfast or snacks!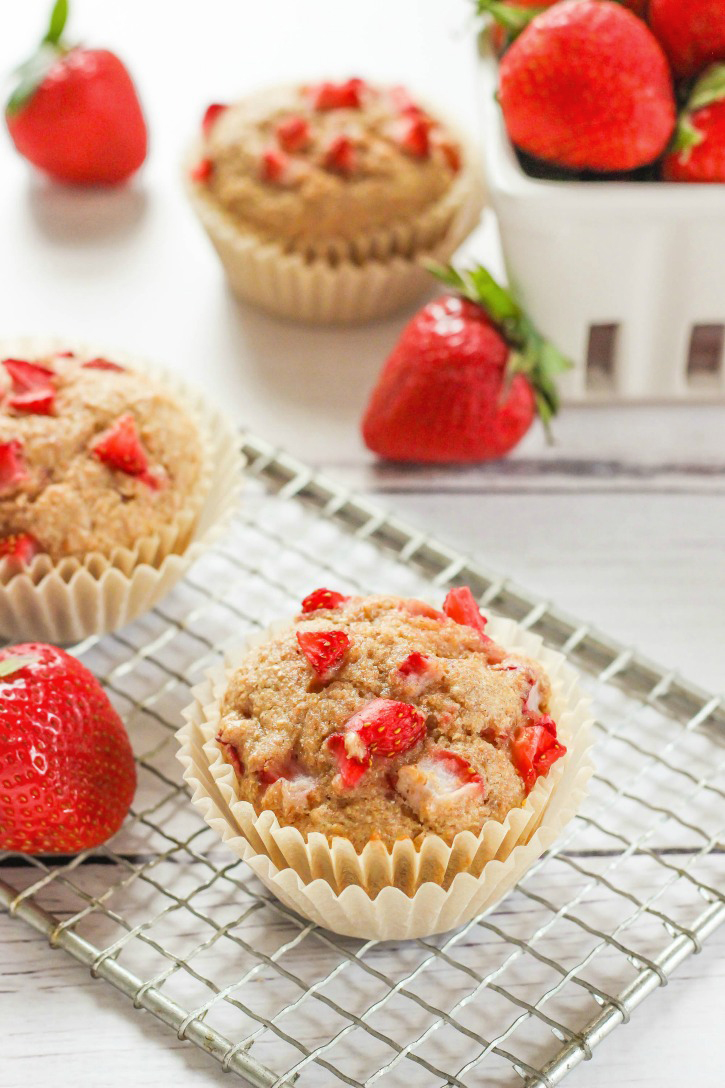 Hello there!  This is Katie from The Casual Craftlete blog.  Last month I shared a recipe for an Easy Slow Cooker Chicken and Wild Rice Soup and today I am changing things up a bit.  One of my favorite foods to eat in the morning are muffins.  I thought I would make a muffin recipe with just a bit healthier ingredients by using whole wheat flour instead.  These Whole Wheat Strawberry Muffins do not disappoint.  They are full of flavor and taste great!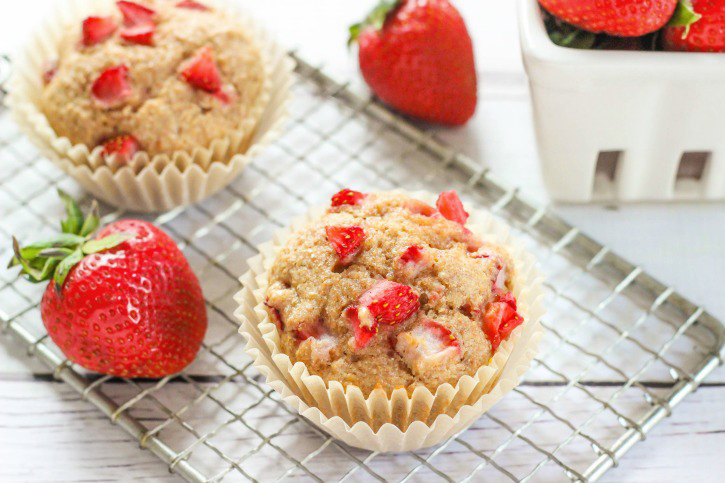 The weather is warming up here in Southern Illinois and soon it will be strawberry season.  They are generally ready to be picked Memorial Day weekend and I can't wait.  In my opinion there is nothing better to eat than a fresh strawberry.  I usually buy a whole flat of strawberries, so I like to come up with several recipes to incorporate the berries.  I have a feeling I will be making these whole wheat strawberry muffins a lot this summer.

Whole Wheat Strawberry Muffins
delicious muffin recipe made with whole wheat flour and fresh strawberries. Perfect for breakfast or snacks!
Author:
Katie @ The Casual Craftlete
Ingredients
1 cup fresh strawberries, diced (plus extra for topping)
1¾ cup whole wheat flour
½ cup granulated sugar
½ teaspoon salt
2 teaspoons baking powder
1 egg
1 teaspoon vanilla extract
½ cup whole milk
¼ cup canola oil
Instructions
Preheat oven to 35o degrees F. Line muffin tin with cups.
In a large mixing bowl, combine flour, sugar, baking powder, and salt. Set aside.
In a separate bowl, whisk together milk, oil, egg, and vanilla until well combined.
Add diced strawberries to flour mixture and gently mix to coat.
Pour the milk mixture into the flour mixture and stir until combine.
Fill muffin cup ⅔ full and bake in preheat oven for 20 to 25 minutes, or until toothpick comes out clean.
Eat right away or store in an airtight container up to one week.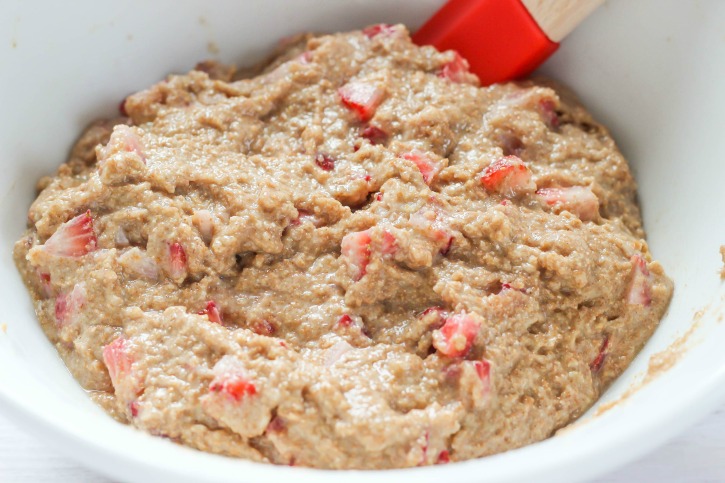 Since I am using whole wheat flour for this recipe, the muffin batter is thick.  Whole wheat flour is more dense than all-purpose flour.  The batter can quickly be made with just a few ingredients and mixed by hand.
I like to fill my parchment paper muffin cups 2/3's of the way full.  The batter will rise just slightly while baking in the oven.  I also add extra strawberries to the top of each muffin just before baking.  That way you get more strawberries to eat and the muffins themselves look pretty.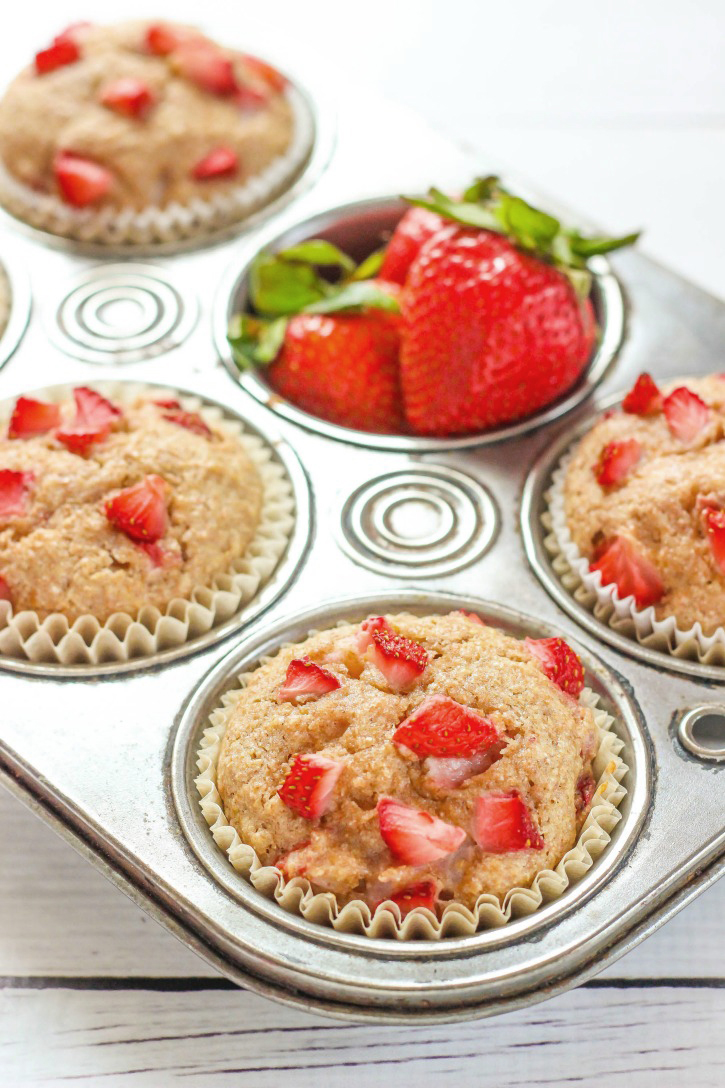 These whole wheat strawberry muffins are easy to make and bake.  They are a delicious and slightly more healthy breakfast or snack option.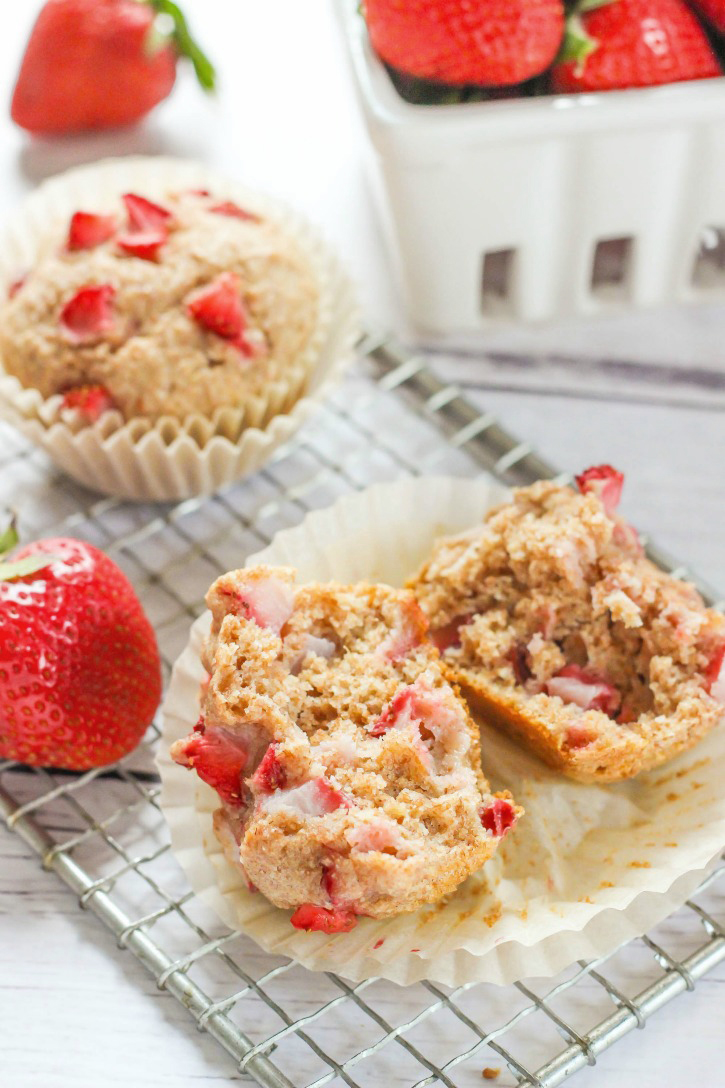 Thank you for letting me share my Whole Wheat Strawberry Muffins recipe.  I hope you enjoy these muffins as much as I do.  Have a fantastic summer!
YOU MIGHT ALSO LIKE: